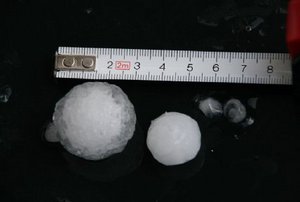 ©motortoque.com
Storm on a T-Cut Volkswagen Golf: The evidence
A freakish shower of hailstones the size of ping pong balls caused damage to 30,000 new, pre-delivery Volkswagen Golfs, Passats, Polos, Eos, Jettas and Tiguans at a German port.
The worldwide automotive industry arguably has a lot to answer for with regards the part it plays in climate change, however Mother Nature has chosen to vent her considerable spleen on a collection of seemingly inoffensive Volkswagens in Germany.
30,000 Vee-Dubs were quietly waiting in line to be shipped overseas from a dockside plant in Emden on Germany's northern seaboard when the hailstorm struck.
Hail the size of ping pong balls rained down on the new Volkswagens in a freak storm that's caused damage worth hundreds of millions of dollars. For the most part, vehicles sustained heavy paint and bodywork damage, yet amazingly little glass was shattered during the climatical strop.
The German car manufacturer has assured customers across Europe waiting on delivery of their new Volkswagens that they'll leave no hailstone unturned in their quest to uncover any unseen damage, however invisible to the naked eye.
Fortunately, the far-sighted auto builders carry the type of gargantuan insurance policy that covers such acts of God.