More than a dozen wildfires have been sparked in Colorado in the past week, most by "dry lightning," and the biggest has burned more than 1,100 acres in Park County.
The Nash Ranch fire, which started Thursday afternoon east of Guffey, forced the evacuation of about 150 homes, said Linda Balough, a Park County spokeswoman.
Two structures - a shed and camper trailer - have been lost to the blaze, Balough said.
About 125 fire fighters, including a Rocky Mountain Area Type II Incident Management Team, swarmed into the Guffey area to battle the blaze, she said.
Dry conditions, swirling winds and high temperatures have combined to make this year an active fire season.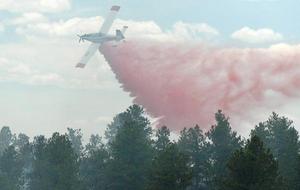 ©The Colorado Springs Gazette | KEVIN KRECK
A single engine air tanker drops retardent on the fire burning near Guffy, Colo., Friday, June 27, 2008.
A total of 86,231 acres have burned in Colorado in 2008, said Steve Segin, spokesman for the Rocky Mountain Area Coordination Center. Last year, which included a much tamer fire season, only 26,535 acres were lost to blazes.
Most of the fires to date have been on the dry eastern plains. As fire season progresses, more blazes are expected in the southern Front Range, mostly in areas below 8,500 feet.
The Nash Ranch fire is still confined to Park County, but it could spread into nearby Teller and Fremont counties, Balough said.
A shelter has been set up at the local school in Guffey and livestock has been taken to the Teller County Fairgrounds in Cripple Creek.
Friday, FEMA authorized funds to help fight the Nash Ranch fire.
The authorization makes Federal Emergency Management Agency funding available to pay 75 percent of the state's eligible firefighting costs, Balough said.
Most of the other fires in the state remained relatively small and in check Friday.
The Miller Fire in the Pike National Forest south of Buffalo Creek burned at least six acres Friday. Eight smoke jumpers dropped into the Devils Canyon fire in Jefferson County and worked in the rugged terrain building a fire line through the day Friday. That fire had burned about seven acres.
Firefighters also battled a blaze on 15 acres near Idaho Springs north of Echo Lake.
Small fires also had burned on the Southern Ute Reservation and outside of Boulder.
Firefighters from the state and region also have been sent to help battle California fires. About 300 firefighters and 60 engines have been deployed to fight more than 1,000 fires in that state.
Smoke from the hard hit area is wafting across the country.
Hazy skies began developing over the Denver area Friday, a direct result of the the California fires, said Segin.
He said smoke from the California fires had originally blown into Idaho and Wyoming, but a cold front moving into Colorado pushed the smoke into the Front Range.
"We call it drift smoke," Segin said.