Engineers kept watch over this rain-deluged state's dams Tuesday after a major collapse nearly emptied Lake Delton in a torrent that washed away houses and a highway.
The Lake Delton breach was caused by violent, drenching weekend thunderstorms that threatened the survival of the tiny Wisconsin town of Gays Mills and displaced thousands of Indiana residents. The stormy weather was blamed for 15 deaths in the Midwest and elsewhere.
An engineering assessment team from the Wisconsin National Guard headed to Lake Delton to determine what was needed to repair the gaping hole that let water from the 267-acre lake carve a new channel to the Wisconsin River on Monday.
Other crews were going to dams throughout the southern and western part of the state to assess damage. They also were monitoring several dams that were seeping or in danger of failing, state Emergency Management spokeswoman Jessica Iverson said.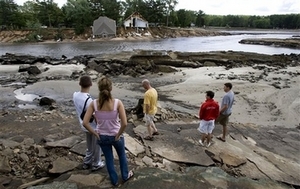 ©AP Photo/Andy Manis
People look at two houses that fell into an emptied Lake Delton Tuesday, June 10, 2008, in Lake Delton, Wis., after the 267-acre lake drained Monday. The Lake Delton breach was caused by violent, drenching weekend thunderstorms that also threatened the survival of the tiny Wisconsin town of Gays Mills and displaced thousands of Indiana residents.
However, no significant damage had been reported at any of the dams, Iverson said.
The downpours in states like Iowa, Illinois and Indiana flooded corn fields and made it difficult for farmers to plant, pushing corn prices to record highs on commodities exchanges this week.
The rainfall also has created flooding concerns along the Mississippi River. The National Weather Service on Tuesday predicted crests of 10 feet above flood stage and higher over the next two weeks at places including Hannibal, Mo., and Quincy and Grafton, Ill. Most of the towns are protected by levees, but outlying areas could be flooded.
"This is major flooding," weather service hydrologist Karl Sieczynski said of the Mississippi. He urged people in unprotected flood plain areas to seek higher ground.
Levee breaks Tuesday in southeastern Illinois flooded 50 to 75 square miles of farm land along the Embarras (EM'-brah) River, forcing the evacuations of an unspecified number of homes northeast of Lawrenceville, said Lawrence County Sheriff Russell Adams. He said water was up to the roofs of some rural homes.
And in Iowa, officials in Cedar Falls told downtown residents and business owners to prepare for possible evacuations as the Cedar River threatened to top the area's protective levee.
Elsewhere, the East Coast is being baked by a heat wave. Heat watches and advisories were in effect Tuesday from North Carolina to New Hampshire. New York City recorded a high of 99 on Monday at La Guardia Airport, with 96 at the heart of the city in Central Park. Thunderstorms promising relief from the heat for parts of the Northeast knocked out power Tuesday to 50,000 homes and businesses in upstate New York, and a tornado watch was posted there and in parts of neighboring states.
Scores of schools around the Northeast planned early closings for a second day in classrooms that lack air conditioning. Agencies in Wilmington, Del., appealed for donations of fans and air conditioners for needy residents.
The collapse of the embankment at Lake Delton swept away three houses and tore apart two others.
"My boat's gone. The pier's gone. Everything is gone," said Don Kubenik, 68, who burst into tears after seeing the 2,800-square-foot vacation home he built in 2003 being destroyed.
The water pouring out of the reservoir also ripped away buried sewer lines, and a contractor started work Tuesday to stretch a temporary sewer line across the 200-yard breach. Raw sewage was still pouring out of the pipes and downstream to the Wisconsin River.
Lake Delton, a key part of the Wisconsin Dells tourism area, was nearly dry by Monday afternoon. The 20 resorts that line the lake already are reporting cancellations by people who had planned summer vacations in the area.
Just south of Lake Denton, part of the world's largest collection of antique circus wagons was moved to higher ground Tuesday as the Baraboo River threatened to flood the Circus World Museum.
About 70 miles southwest of Lake Delton, the village of Gays Mills was inundated during the weekend, just 10 months after another devastating flood left residents working to rebuild homes and businesses.
The swollen Kickapoo River engulfed nearly the entire town Monday morning, forcing about 150 of the 625 residents to evacuate. By evening, the village was a grid of canals with cars submerged up to their windows, a repeat of last August's flooding.
"I can't believe this is happening again," said Liz Klekamp, 23, who said she grabbed her cat and fled Monday morning when water poured into her house. "It's really, truly sad."
Indiana officials said they could not give a dollar estimate on the damage or the number of homes and businesses destroyed by flooding caused by up to 11 inches of rain on Saturday. Two more inches fell Monday.
Flooding in parts of Indiana had eclipsed levels set in the deluge of March 1913, which had been considered Indiana's greatest flood in modern times, said Scott Morlock, a hydrologist with the U.S. Geological Survey in Indiana.
The weekend death toll included eight in Michigan, three in Indiana, two in Oklahoma, and one each in Iowa and Connecticut.