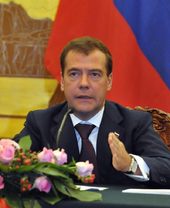 Russian President Dmitry Medvedev on Saturday blamed the United States for the global financial downturn and said Russia had the energy and food resources to come to the world's help.
"It is precisely the gap between the United States' formal role in the world economy and its real capabilities that was one of the key reasons for the current crisis," Medvedev told a business forum in Saint Petersburg.
"Russia is a global player and understands its responsibility for the fate of the world," he said.
"We want to participate in setting out the new rules of the game, not out of imperial ambitions... but because of our energy resources."
Medvedev -- who took office last month after his controversial election to replace his political mentor Vladimir Putin -- said Russia was ready to host an international conference on worldwide financial troubles this year.
Russia is the world's biggest energy exporter, with vast oil and natural gas reserves.
Medvedev also pointed to the country's potential as a food supplier, recalling that "a century ago Russia was one of the biggest suppliers of cereals."
"The growth of production in Russia profits not only us but the global food market," he said.