Poachers from an array of factions have killed 17 elephants in eastern Democratic Republic of the Congo since mid-April, conservationists announced.
The killings of the first 14 animals were announced early last week, and an additional 3 were found Friday.
The rare animals were slaughtered in Virunga National Park, most likely to feed Asia's demand for ivory.
Virunga's ecosystem has come under increasing pressure from a bevy of military groups looking to exploit the natural resources in its jungles to fund their operations.
The Nairobi-based charity WildlifeDirect, which publicized the latest killings, said Rwandan and Mai Mai rebels, Congolese army forces, and even local villagers were all to blame.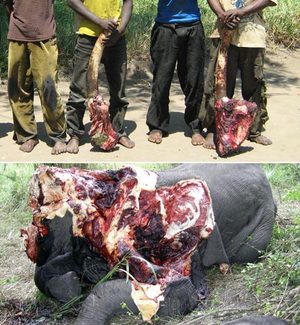 ©ICCN/WildlifeDirect
Poachers hold a pair of harvested elephant tusks (top) on April 27, 2008. To claim the tusks, which are carved into ivory goods, poachers will butcher an elephant and leave the rest of its body to rot, as seen in an image of a slaughtered elephant (bottom) taken on April 20, 2008.

At least 17 elephants have been found butchered for their tusks since mid-April in Democratic Republic of the Congo's Virunga National Park, wildlife groups announced.
"We call on the international community to engage in solving the region's political problems, for the sake of the local population as well as for Virunga's unique wildlife," said Alexandre Wathaut, an official with the Congolese Wildlife Authority.
Keeping the Peace?
The ivory trade has been banned internationally since 1989. But that has not stopped poachers from harvesting elephant tusks for sale on the black market, according to TRAFFIC, a wildlife trade-monitoring network.
Continued demand for elephant tusks means that the population in Virunga has plummeted from 3,500 in 1959 to 350 today.
Conservationists fear that United Nations peacekeepers working in Congo may have helped create conditions for the latest slaughter.
Recently allegations circulated that peacekeepers from India and Pakistan were trading guns and ammunition with rebel groups for ivory and gold in 2004 and 2005.
Late last month the head of the UN mission in Congo, Alan Doss, denied any wrongdoing.
And UN spokesperson Kemal Saiki told Britain's Daily Telegraph newspaper that media reports about an investigation into the alleged trades had been misleading.
"These investigations found cases of misconduct by a handful of individuals but no evidence of systematic wrongdoing," Saiki told the
Telegraph
.
"Allegations of gold trafficking concerned three individuals, while there was no evidence at all of ivory trafficking."
But on Friday the nonprofit group Human Rights Watch released a batch of internal UN documents that it said made clear the investigators had "seriously downplayed" the extent of wrongdoing by UN peacekeepers.
One of the documents gave a detailed account of how peacekeepers traded ammunition for ivory, including tusks that had come from a two-year-old elephant.
"The concern is that this news is filtering through to the well-armed groups in the area who now see an opportunity to raise funds by killing elephants for ivory," WildlifeDirect officials said in a statement.
Funding From Nature
The elephant killings coincide with a larger push by many southern African countries to ease the worldwide ban on ivory sales.
WildlifeDirect director Emmanuel de Merode said he believed the uptick in elephant killings was directly tied to speculation of a new ivory trade.
"I've spent the last 15 years working on issues like bush meat and ivory, and I spent 3 years looking at hunting behavior," de Merode said.
"Back then, even hunters in very, very isolated parts of the Congo Basin were very aware of when the ivory ban was imposed and discussions of whether it was going to be lifted or not."
And ivory isn't the only natural resource armed groups in Virunga use to fund their operations.
Some goods, such as cassava roots and beans, are sold locally, said Anneke Van Woudenberg, a Congo expert at Human Rights Watch.
Militants are also blamed for deforestation in the park to satisfy an increasing demand for charcoal in the Congo and in neighboring Rwanda.
Other goods - including gold, tin, and a metallic ore called coltan used in mobile devices - are sold on the international market.
"The country's resources make a significant contribution to these armed groups, there can be no doubt," Van Woudenberg said.
"If we look across the board, they all augment their war chests by exploiting natural resources."
Animals in the Midst
In addition to the elephants, military activity in the park has led to recent high-profile killings of other iconic animals.
In October 2006 the Congolese militia was blamed for a massive hippo slaughter that saw about 400 animals killed for their meat and ivory.
And last May a group of Mai Mai rebels held rare mountain gorillas hostage to protect their stronghold inside the park.
Still, de Merode said, the situation is not entirely bleak.
Despite recent events, there are indications that the mountain gorilla population in the park is going up, he said.
Meanwhile elephants are surviving in Queen Elizabeth National Park, which borders Virunga.
There is hope that even if elephants are wiped out in Virunga, the descendants of nearby elephants can eventually move back in when the park's political situation stabilizes.