Austin, Texas - here is over a half a million dollars in damages after a weekend fire at Steiner Ranch on Country Trails Lane.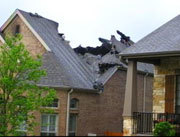 ©KXAN
Lake Travis fire and rescue crews said two adults and a baby were in the two-story house when it was hit by lightning.
Emergency crews reached the house just before 7 a.m. Monday.
The first fire unit on the scene reported smoke inside the house, but a fire in the attic vented through the roof. The fire continued to advance through the roof, causing a second-alarm response to be requested. Two additional fire engines were dispatched to the scene.
It took firefighters 45 minutes to put out the flames.
Luckily, nobody was injured.
The American Red Cross is assisting the family.