When police knocked on Donna Lemire's door late Tuesday night and told her to leave, it was not an April Fool's joke.
A passing storm brought torrential downpours and lightning, which struck outside her building in the Shadowbrook Condominium complex around 11:30 p.m., causing a water pipe to burst and flames to erupt from the third floor ceiling.
Fire Lt. Mark Nelson said a lightning bolt struck a tree outside 17 Shadowbrook Lane, traveled into the ground and through Lemire's building.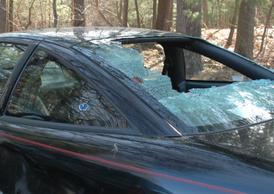 ©Rachel Juzapavicus
A lightning strike Tuesday night at 17 Shadowbrook Lane in Milford shattered the window of this car, started a fire and burst a water pipe at the condo complex.
The shock disabled the building's fire alarms, forcing firefighters to go door-to-door to tell residents to evacuate.
"(It sounded) like the worst thunder ever, like a crash," Lemire said.
Fire Lt. Paul DiAntonio said lightning touched down twice in the condo complex late Tuesday, once outside 2 Kennedy Lane and again outside 17 Shadowbrook Lane.
Although the area near Kennedy Lane sustained little damage, neighbors at Shadowbrook Lane saw the powerful effects.
Lightning "blew the ground apart," striking a tree and shattering a car's back window, Nelson said.
"It was quite amazing, the power of the lightning," he said.
Neighbor Jackie Sherman-Herne said the lightning "lit up the sky."
"It sounded like when electricity hits a pole. It woke me up," she said.
Firefighters were called to contain water escaping from a pierced hot water pipe.
Shortly after, occupants from another building saw the fire on the third floor, prompting firefighters to break through the ceiling to extinguish the blaze.
DiAntonio said crews were able to quickly contain the fire above the building's laundry room.
In the parking lot, neighbors and firefighters identified the source, tracing where the lightning struck a tree, splitting its bark from top to bottom, Nelson said.
A small trench spit out rocks and debris onto the asphalt, he said.
Nelson said a "noticeable" crowd of concerned and startled residents gathered outside the building until they were able to return inside just before 2 a.m.
DiAntonio said fires often travel quickly and far in the Shadowbrook condos because of its building construction. "It tends to run once it gets up in (the roof line) area, it has room to travel," he said.
"The crew did an excellent job, they extinguished the fire quickly and kept it from spreading further into the building," he said. "They were aggressive, they got the job done."
Crews from Hopedale and Hopkinton assisted.
Damages were estimated at about $30,000 and no injuries were reported.