At least three people have been killed and 25 seriously injured by a 7.5-magnitude quake near Indonesia's western Aceh province, officials say.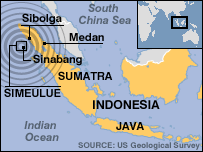 ©USGS
The tremor, whose epicentre was near the island of Simeulue, 319km (198 miles) off the coast of Sumatra, also damaged many buildings, they added.
The epicentre was close to that of the earthquake which triggered the 2004 Asian tsunami, killing 200,000 people.
Tsunami warning centres initially issued alerts, but later lifted them.
Indonesia lies on the so-called Pacific Ring of Fire, one of the most seismically active regions of the world.
'Mass panic'
Local residents said Wednesday's earthquake, which hit Simeulue at 1508 (0808 GMT) according to the United States Geological Survey (USGS), lasted for almost a minute.
It was felt strongly more than 300km (185 miles) away in the provincial capital, Banda Aceh, where people left their offices after buildings started shaking.
"Everything shook very strongly for more than a minute and I ran along with the others. I heard people screaming in panic," Ahmad Yushadi told the Associated Press news agency.
An official from the Indonesian ministry of health, Rustam Pakaya, said the authorities on Simeulue had reported three deaths and 25 serious injuries caused by the earthquake.
"People have evacuated to the mountains," he said.
After the earthquake, the Hawaii-based Pacific Tsunami Warning Centre and Thailand's National Disaster Warning Centre briefly issued precautionary tsunami alerts for Indonesia and nearby coastal areas.
A nine-magnitude earthquake close to Simeulue on 26 December 2004 triggered the Asian tsunami which spread thousands of kilometres across the Indian Ocean.
Three months later, an 8.7-magnitude earthquake killed 1,000 people on Simeulue and the neighbouring island of Nias.