A volcano erupted in southwestern Colombia on Thursday night, prompting authorities to order the evacuation of about 8,000 people.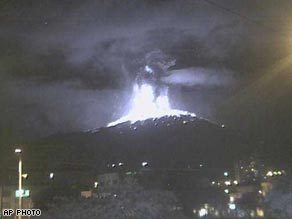 ©Associated Press
This video frame released by the Colombian Institute of Geology and Mining shows the eruption.
Images broadcast on Caracol, a Colombian television station, showed white smoke pouring into the evening sky from a mountain with a summit of 14,029 feet (4,276 meters).
Authorities canceled Friday classes in schools around the Galeras volcano, Caracol reported.
The Galeras volcano is one of the most active in Colombia.
The Volcanic Ash Advisory Center in Washington, which tracks eruptions in a region that includes Colombia, said early Friday that an "explosive eruption" had taken place.
Fernando Gil, director of Colombia's Seismological Network, told
The Associated Press
by phone it was the most volcano's most severe eruption since it reactivated in 1989.
"Depending on the wind direction it's going to spread ashes over the entire area," he told the AP, adding that "most of [Galeras'] eruptions are violent and short."
Activity at the volcano also prompted an evacuation in November 2005, and a 1993 eruption killed a group of scientists working nearby.