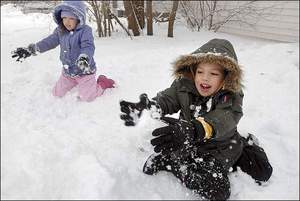 ©Oshkosh Northwestern/Shu-Ling Zhou
Andy VanKeuren, 6, and his sister, Maddy, 8, play at the snow at their backyard Friday, December 28, 2007.
Another round of snow blanketed Oshkosh, Wisconsin with about four inches of the white stuff which fell Friday adding to a near record snowfall for the month.
So far, an estimated 24½ inches of snow has fallen in Oshkosh this December, which is believed to be the fourth most since at least 1948, according to the Midwestern Regional Climate Center, Champaign, Illinois. The agency reported the record snowfall for December, 25.7 inches, fell in Oshkosh is in 2000.
Oshkosh's average snowfall in December is about 11 inches and the normal seasonal snowfall during winter in the city is 41.3 inches.
The heaviest snow on Friday fell between noon and 4 p.m. About an inch of snow fell Friday evening with accumulating snow ending by 8 p.m. Light snow is also forecast for Sunday and Monday.
Oshkosh received measurable snowfall on eight days so far this month.
December has been a snowy month throughout the state. Wisconsin Rapids received a state-high 18.2 inches of snow last weekend, according to the National Weather Service.
The snow is good news for businesses.
Geri Cauley, a floor manager for Kitz & Pfeil Hardware on North Main Street in Oshkosh, said Friday afternoon that snow-melting products are going out the door quite fast.
"We still have an ample supply of snow shovels," she said.
Todd Messerschmidt, manager of the Kitz & Pfeil Power Center in Oshkosh, said it's been "an awesome" month for sales of snowblowers, parts and service.
"We haven't had snow like this in a number of years," he said.
Messerschmidt said their power center in Oshkosh sold 113 snowblowers in about one week after the first storm of the month, when eight inches of snow fell on Dec. 1.
Rural Omro dairy farmer Jeff Bradley said the abundance of snow helps insulate crops already in the ground, such as alfalfa, and prevents the crops from being damaged by ice.
"There's also extra moisture for the fields in the spring," he said.
Officials from the NWS in Green Bay said the 90-day forecast for January through March calls for below normal precipitation and a 30 percent chance for below normal temperatures.
It's just a forecast and the weather could change, said Dan Clark, a meteorological technician for the NWS in Green Bay.
"There are so many variables that go into this and it covers a big area," Clark said.
The Associated Press
contributed to this report
.