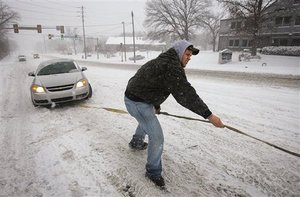 ©AP Photo/Topeka Capital-Journal, Mike Burley
Greg Weakland, 19, secures a tow hook to a stranded passenger's car to help it up an inclined street as snow blows down in Topeka, Kan.
MILWAUKEE - Highways were hazardous for holiday travelers Sunday and thousands of homes and businesses had no electricity in the Midwest as a storm blew through the region with heavy snow and howling wind.
At least eight deaths had been blamed on the storm.
Winter storm warnings were posted for parts of Minnesota, Wisconsin and Michigan on Sunday as the core of the storm headed north across the Great Lakes. Parts of Wisconsin already had a foot of snow, and up to a foot was forecast Sunday in northeastern Minnesota, the National Weather Service said.
Radar showed snow falling across much of Wisconsin and eastern Minnesota on Sunday and moving into parts of Michigan and Indiana.
"Everything is just an ice rink out there," Rock County Sheriff's Sergeant Steve Selby said Sunday morning.
The weather system also spread locally heavy rain on Sunday from the Southeast to the lower Great Lakes.
The storm rolled through Colorado and Wyoming on Friday, then spread snow and ice on Saturday from the Texas Panhandle to Minnesota. Multi-car pileups closed parts of several major highways Saturday in the Plains states.
The area of Madison, Wis., got three to four hours of freezing rain early Sunday, said weather service meteorologist intern Bill Borghoff at Sullivan. The combination of icy pavement and gusty wind there was making driving treacherous, he said.
"It's quite a mess out there," Borghoff said.
Wind gusting to more than 50 mph uprooted trees in parts of Michigan. "I can see the snow moving basically sideways," weather service meteorologist Wayne Hoepner said in Grand Rapids.
Because of the wind, airlines canceled 150 flights Sunday at Chicago's O'Hare International Airport, the city Aviation Department said. Municipal officials said the wind had knocked out almost 60 traffic signals, and there were nearly 500 reports of fallen trees and limbs.
More than 11,000 homes and businesses were without power in Wisconsin on Saturday because of the freezing rain, ice, gusty wind and heavy snow, utilities said.
Some 114,000 customers were without power Sunday morning in Michigan, and in Illinois about 48,000 customers were blacked out in the Chicago metro area.
At least three people in Minnesota, three in Wyoming and one person each in Texas and Kansas were killed in traffic accidents that authorities said stemmed from the storm.
The fatality in Texas came in a chain-reaction pileup involving more than 50 vehicles, including several tractor-trailer rigs, on Interstate 40, police said. At least 16 people were taken to hospitals, two with life-threatening injuries, Sgt. Michael Poston said.
"We're not really sure how many cars, probably in excess of 40 cars and in excess of 20 semi-trailers," Amarillo police Sgt. Greg Fisher said Sunday.
Many were holiday travelers, including families with small children not dressed for the weather, Sgt. Shawn McLeland said. Other drivers spotted them and opened Christmas presents to provide warmer clothing for the children.
Authorities believe the pileup, which shut down the highway for most of the day, was caused by near zero visibility in blowing snow and slippery pavement. Multi-vehicle wrecks on Saturday also blocked sections of I-70 in Kansas and I-29 in Missouri.