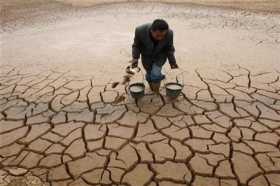 ©Unknown
China is suffering its worst drought in a decade, which has left millions of people short of drinking water and has shrunk reservoirs and rivers, state media said on Friday.
Hardest hit are large swathes of the usually humid south, where water levels on several major rivers have plunged to historic lows in recent months.
"The drought is the most serious of the decade and is affecting almost the whole country," the China Daily quoted Zhang Jiatuan, an official from the State Flood Control and Drought Relief Headquarters, as saying.
The surface area of the country's largest fresh water lake, Poyang, in the southern province of Jiangxi, had fallen to a record 50 sq km (19 sq miles) from several thousand sq km at its peak, the newspaper said.
More than 760,000 residents faced drinking water shortages in the rice-growing province.
A Jiangxi official news portal showed pictures of children playing on bare beds of the Gan river, Poyang's main tributary hit by serious boat traffic jams due to the shallow water.
Similar congestion has also occurred on the Xiang river in neighboring Hunan province and authorities have had to release water from behind the massive Three Gorges Dam to ease cargo ship stranding downstream on the Yangtze River, China's longest.
The southwestern region of Guangxi has been hit by its worst drought since 1951, with over a million people suffering from drinking water shortages.
About 400,000 hectares (1,545 sq miles) of crops have been damaged by drought this year, leading to total grain losses of 37.4 million metric tonnes, the China Daily said, adding the consecutive droughts over past years had compounded the situation.
Drought and floods are perennial problems in China, whose meteorologists have complained about the increased extreme weather and partly blamed it on global climate change.
About 30 million Chinese in the countryside and more than 20 million in urban areas face drinking water shortages every year despite huge government investment to address the problem, the
China Daily
said.