Defense Minister Shigeru Ishiba said Thursday that he was troubled over potential legal issues if a UFO arrives in Japan, requiring action by the Self-Defense Forces, Japanese media reports.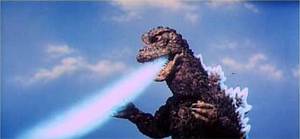 ©Toho Company
Japan's Defense Minister: "Nobody ever questioned the legality over mobilizing the Self-Defense Forces in the Godzilla movies."
The subject was triggered by a question from oppositional lawmaker Ryuji Yamane, who argued the government should attempt to confirm what UFOs are because of "frequent observations" of them in Japan.
"There are no grounds for us to deny that there are unidentified flying objects (UFOs) and some life-form that controls them," Ishiba said at a news conference. "Various possibilities should be considered."
Ishiba noted that in the classical Godzilla movies, Japan deployed its military against the monster. "Few discussions have been made on what the legal grounds were for that," the minister said, drawing laughter from reporters, according to an AFP report.
Ishiba said it would be difficult to determine on what legal grounds the Self-Defense Forces could be mobilized if a UFO violating Japanese airspace is not hostile.
"Would that be mobilization for an act of defense? That would not be the case if they say, 'Everyone on the Earth, let us be friends,"' Ishiba said. "Or what can we do when we can't figure out what they're saying?" Ishiba was quoted as saying by Kyodo News.
The minister added that he was strictly speaking his own views and that the ministry was not actually working out ways to deal with UFOs.
The government officially took the position Tuesday that the existence of UFOs are unconfirmed. Chief Cabinet Secretary Nobutaka Machimura drew headlines around the world when he after the conference stated he was a firm believer in UFOs, citing Peru's Nazca Lines as evidence.