Water levels in China's largest fresh water lake are nearing record lows as a drought exacerbates existing shortages, state media said Wednesday.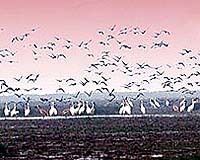 ©Unknown
The situation in Poyang Lake in east China's Jiangxi province had caused severe water shortages for industrial and residential users,
Xinhua
news agency reported.
The water level was five centimetres (two inches) below the record low at one hydrological station on Tuesday, while at another station it was 0.78 metres (2.6 feet) above the lowest recorded point, it said.
Since mid-September, rainfall in Jiangxi has been 77 percent below normal, the lowest since 1960, the report said, citing the local meteorological bureau.
Poyang Lake is fed by five rivers in south China and empties into the Yangtze river, China's biggest.
The lake is a huge bird sanctuary as it lies along the migratory paths of many Asian avian species.
The China Daily
newspaper said the Gan river, which flows into Poyang lake and is a major tributary of the Yangtze, is drying up near the Jiangxi capital of Nanchang due to the drought that began in July this year.
North China suffers serious water shortages that are often attributed to global warming, while in recent years areas in the traditionally wet south have also had unusually dry weather.
The water shortages are exacerbated by pollution that has increased at alarming rates during China's 25 years of economic growth.
According to recent government statistics, more than 300 million people in rural China do not have access to clean water.