Ferociously high surf charged by storms in the Pacific Northwest exhausted surfers and rescuers alike as
20-foot swells
crashed off the misty Monterey Bay coastline Tuesday, killing a surfer near Pebble Beach and forcing dozens of others from the water.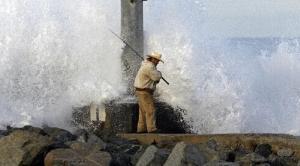 ©Vern Fisher / Media News
A fisherman gets too close to the surf on the jetty in Moss Landing on Tuesday.
While the high surf drew daredevils and experts to the waves - and big crowds to watch - the spectacle also brought State Parks lifeguards, the city's marine rescue crew, firefighters and paramedics to West Cliff Drive on Tuesday.
Nine lifeguards and firefighters on the lookout for surfers in distress watched from the cliff and in the water after a 2 p.m. high tide. The National Weather Service canceled its high-surf warning early this morning, but extended a high-surf advisory to 4 p.m. today.
"We're doing a pre-emptive thing," Santa Cruz fire Battalion Chief Matt McCaslin said as he manned two radios and two phones from his command vehicle parked at the south end of Mitchell's Cove.
"It doesn't happen that often that we get a big winter storm and a decent day."
Lifeguards on personal watercrafts towed four troubled surfers through the breaker to the beach at Mitchell's. Another surfer at Cowell Beach needed help after a wave crashed him into the wharf, splintered his board and spat him onto the beach. Harbor Patrol also rescued a surfer about 8 a.m. near Capitola who was described as "prehypothermic."
Monterey County authorities found a big-wave surfer face down in the water off Ghost Trees, a popular surf spot near Pebble Beach. Peter Davi, 45, of Monterey, was attempting to swim to shore but fell unconscious and was pronounced dead about 1:30 p.m.
Davi's death comes three days before the waiting period opens for the Maverick's big-wave surf contest at Half Moon Bay, where waves rolled in Tuesday at 20-foot heights and larger. According to the official Maverick's Web site, Davi was one of the early pack of brave surfers to test themselves at Maverick's after word got around about its massive waves.
Santa Cruz Port Director Brian Foss said the high surf was the biggest he remembered in the past several years. He said waves up to 3 feet high rolled through the harbor and rose to 14 feet near the wharf.

"These are exceptionally big waves," Foss said.
C.J. Flores of Santa Cruz ambled down West Cliff Drive after getting battered by the swell off Its Beach. He said waves were triple their typical size.
"It was treacherous," he said, adding that he tried to jump in near Steamer Lane, "but I couldn't get out there."
Surfer Laura Williams of Santa Cruz stood on the bluff near Cowell Beach, watching several surfers get temporarily backed into a cove by strong currents. She said she could tell they were inexperienced based on their novice paddling.
"The current pushes people into the rocks," she said. "They shouldn't be out here."
Bob Koval of Santa Cruz said he usually surfs three hours at a time, but said the high surf forced him out in half the time. Still, it didn't amaze him others stayed in.
"This is Santa Cruz," he said. "They don't to go work or school, they surf."
Lifeguards patrolled the coast warning surfers of the dangerous conditions, but authorities are limited in their ability to keep surfers safe.
"Legally, we can't order them out of the water but we sure as heck can give them an advisory," Chief McCaslin said.
If someone needs to be rescued after being warned by authorities, McCaslin said that person can be financially responsible for the cost of the rescue. He said he was unsure whether crews would remain after dark or be sent out today.
Rain or wind could keep people out of the water, even if the swell continues to pound the coast, he said, adding "We're really going to be watching the weather closely."
Up north, a commercial crab fishing boat went missing near Pillar Point Harbor on Tuesday afternoon. Good Guys, a 25-foot vessel with two aboard, was returning to the harbor from crabbing along with a second boat, Majek, shortly after 1 p.m. The two boats were in contact with each other, but the Majek lost contact with the other boat. About 1:30 p.m., an electronic locator beacon from the missing boat was detected south of Pillar Point, but there has been no sign of the boat itself by about 7 p.m. Tuesday.
Two Coast Guard helicopters equipped with night-vision goggles and two vessels were dispatched to search for the fishing boat.
The Good Guys is reportedly owned by Ben Hannaberg, said to be a contractor who has operated out of Pillar Point for about five years.
Back in Santa Cruz, for spectators, the high surf was a visual and auditory delight.
Jann McCord and Kathy Haber, who live near Its Beach and walk along West Cliff Drive frequently, said they heard the waves crashing throughout the night Monday. They walked to the waterfront Tuesday afternoon to get an up-close look at the waves crashing near the Surfing Museum.
"I've never seen it break out this far," McCord said. "It's beautiful any time, but it's exciting today."