The Coast Guard scrambled helicopter rescue crews to the hardest-hit locations in Western Washington today as Gov. Christine Gregoire declared a state of emergency because of massive flooding, heavy rain and high winds that have killed at least two people.
The weather caused a three-day shut-down of Interstate 5 near Chehalis, and cut off coastal communities. All over Western Washington, flooding deluged homes and businesses.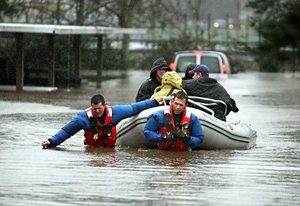 ©Steve Ringman/Seattle Times
Woodinville firefighters Jesse Disch, left, and Justin Ralph pull residents of the Archstone Apartments and their pets to safety.
So far, the worst of the weather has focused on Grays Harbor and Pacific counties, which have reported tens of thousands of customers without electricity, and most major roads in and out closed or blocked, including U.S. Highways 12 and 101. At one point early Monday nearly every road into Aberdeen was closed or blocked.
The Chehalis River was also flooding in Lewis County, including Chehalis, where helicopters were scrambled to rescue people from their flooded homes. . The weather service said heavy rain and lowland snow likely would cause the river to surge into areas that had never flooded before.
Flooding on I-5 has forced the state to close the freeway to all traffic from Grand Mound, south of Olympia, to Chehalis. The main transportation artery from Portland to Canada was expected to be closed for at least three days.
Coast Guard helicopter crews from Port Angeles rescued 10 people trapped in their homes after a dike broke on the Tahuya River near Hood Canal in Mason County. And helicopter crews were headed to a location 20 miles west of Chehalis to help more than 80 people "in distress." No other details were immediately available.
In Grays Harbor County, a sheriff's spokeswoman reported two confirmed deaths: An Aberdeen man who was hit by a falling tree while cutting up another one, and a man who died of an unspecified medical condition when the power went out. Two county electric workers were injured when a tree hit their truck.
West of Olympia, a mud slide wiped out a landmark eatery, the Ranch House BBQ, off Highway 8 near Summit Lake. A section of the highway will be closed indefinitely, officials said.
"It's causing extensive damage to homes, businesses, public utilities, public facilities and infrastructure throughout our state," Gregoire said in declaring an emergency. "Based on our situation I signed an emergency proclamation directing the state ... to do everything reasonable to assist local governments."
Gregoire's declaration allows the state National Guard to help counties that ask for it. No requests had come in so far this morning, but numerous local governments throughout the state have called emergencies, including Mason, Lewis, Kitsap, Thurston, Pierce and Snohomish counties.
The rain was supposed to taper off by early evening today, according to the National Weather Service. But it could be enough to challenge the
one-day rainfall record in Seattle, last set four years ago.
Seattle city officials noted that more than
5.8 billion gallons of water have fallen from the sky, enough to fill Green Lake six times.
The last record was 5.02 inches at Seattle-Tacoma International Airport, set Oct. 20, 2003. The weather service today said 3.46 inches of rain fell at Sea-Tac between midnight and 3 p.m. today. And 2 or 3 more inches could fall through tonight.
Flood warnings are issued for Western Washington through Wednesday afternoon. The rain will combine with melting snow to "cause rivers to rise dramatically," according to the Weather Service.
Some homes and businesses were being evacuated in some areas of King County, including a business park in Bothell. And Nathan Hale High School in Seattle was closed because of flooding on Thornton Creek.
The intense storms are brought by moisture from three tropical typhoons that are slamming into cold air from Alaska, the Weather Service said.
As of this morning, the Skokomish River in Mason County was at record flood levels, and the Weather Service said several rivers in the Olympic and Cascade mountain ranges were in danger of breaking their banks. The Puyallup River near Orting and the Snoqualmie, Tolt, Snohomish, Stillaguamish, Skagit and Nooksack rivers face "the greatest threat," the Weather Service said.
In King County, flood warnings were issued this morning for Issaquah Creek and the Tolt and Snoqualmie rivers. Issaquah Creek was expected to flood this morning, and the Tolt was predicted to hit flood stage at 10 a.m. and crest at 4 p.m. before falling below flood stage by 10 p.m., the Weather Service said. The Snoqualmie was expected to flood at 3 a.m. Tuesday, crest seven hours later, then recede below flood stage Tuesday night, the Weather Service said.
Bothell Mayor Mark Lamb proclaimed a local emergency in Bothell city limits. Evacuations were called at several locations, including the North Creek Business Park, from Highway 522 north to 240th Street Southeast, and 120th Avenue Northeast west to Interstate 405 because of rapidly rising water.
The Seattle Times' printing and distribution facility at North Creek was still operational as of midday, a company spokeswoman said.
In Kenmore, residents in the 19200 block of 73rd Avenue Northeast were advised to get out of their homes because of the flooding.
A few "warming centers" were set up for people if they need a place to get out of the weather: The Bothell Library, 18215 98th Ave N.E., and Lake Forest Library, 17171 Bothell Way N.E., will stay open until 9 p.m. The Northshore Senior Center, 10201 E. Riverside Dr. in Bothell, was offering a noon lunch, coffee bar and activity room and will be open until 4:30 p.m.
The city of Bothell was asking for volunteers to help with sangbagging. Volunteers can report to the city shop at 17555 Brickyard Road through 5 p.m. today.
King County residents can get updates on flooding online: www.kingcounty.gov/flood or www.rpin.org. A recorded flood-information hotline is being updated hourly: 206-296-8200 or 1-800-945-9263.
In Seattle, the city activated its Urban Flood Response plan. A dozen utility crews were cleaning drains and responding to calls for help. Seattle Public Utilities says it has had about 150 customers asking for help with backed-up drains and ponding.
Crews were using sandbags along Thornton Creek in Northeast Seattle where Meadowbrook Pond was overflowing. That caused Seattle Schools officials to close Nathan Hale High School, which is perched on Thornton Creek, for the day.
A dozen residents were evacuated from four apartment buildings at Midvale Avenue North and North 107th Street. Seattle firefighters had to use rafts to carry out residents because water was as deep as 10 feet, said Helen Fitzpatrick, a fire department spokeswoman.
She said one of the apartment building's parking garage was completely under water. Buses were brought to the scene to provide temporary shelter.
Also, a landslide blocked the 2400 block of Westlake Avenue. City landslide experts have been dispatched. The Jackson Park Golf Course on 135th Avenue Northeast was flooded in parts.
Seattle utility managers said a new million-gallon stormwater-detention pond in the Madison Valley appears to be working. It was installed after Madison Valley resident Kate Fleming drowned in her basement when stormwater rushed in last December.
Crews haven't seen any water in the pond yet, and it would only fill if the systems became overwhelmed, said Andy Ryan, an SPU spokesman. Still, said Ryan, one resident reported water coming into her basement and three other callers were worried about basement flooding.
He said most calls about flooding are related to private drains.
In Lynnwood, several buildings in an apartment complex were evacuated because of high water. About 40 people were displaced.
The state Transportation Department has closed Highway 2 in both directions this morning because of avalanche danger. The road was closed from six miles west of the Stevens Pass summit, near Skykomish, all the way to Leavenworth, where avalanches have been reported at Tumwater Canyon.
Seven inches of snow fell at Stevens Pass this morning, and then it started raining, said Jeff Adamson, a Transportation Department spokesman. That will help melt the 2 feet of snow that fell on the pass over the weekend.
On top of it all, the Puget Sound area is expected to get more "very windy conditions" through today, the agency said, including gusts as high as 50 miles an hour in Seattle and up to 70 mph in Everett. There, the Weather Service says a high wind warning is in effect until 4 p.m.
Water-saturated soils could "enhance the impact of high winds" and topple trees and power lines.