Yates, 7, loves chewing gum. He'll go through every compartment in a purse looking for it intently. He doesn't give up unless he's distracted with something else.
He loves to flush the toilet, and once he put tennis balls down the toilet so it overflowed and he could watch the water run. He's also shut the bathtub drain and turned the water on.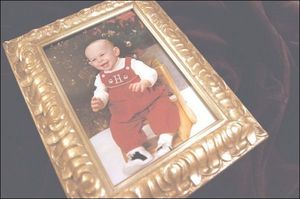 ©Jackson Sun
This portrait of Yates was taken when he was 6 months old.
"We've replaced our ceiling four times," said his mother, Angela Hazlehurst, sighing and laughing. "You have no idea -"
Yates, who is loved and cherished, is autistic. But his parents say he wasn't when he was born. They describe a beautiful, smiling baby who was ahead in development.
The Hazlehursts - Angela, a pharmaceutical sales representative and former Mrs. Tennessee, and Rolf, an attorney - are a well-educated, attractive couple who struggle to provide a good life for their first-born child. They live in their dream home - a two-story yellow brick house in a quiet Jackson subdivision lined with tall, old trees and children's laughter tinkling like wind chimes.
Angela said they've been through the stages of asking God, "Why?"
"You grieve," she said, with tears in her eyes. "I said, 'I know you're there, God, but I'm mad at you.' But I kept telling myself there has to be a reason. I think I finally have my 'why.'"
The Hazlehursts filed a lawsuit alleging that the vaccinations Yates received within his first year of life caused his autism and a gastrointestinal condition.
From Oct. 15-18, they testified in the U.S. Court of Federal Claims in Charlotte, N.C. The cases were heard by the Honorable Patricia Campbell-Smith, special master.
They had agreed to permit their case, Hazlehurst v. Secretary of Health and Human Services, Case No. 03-654V, to be chosen as the second test case in the joint proceeding known as the Omnibus Autism Proceeding, or OAP.
"The OAP is an efficient method of proceeding on the nearly 5,000 individual vaccine claims filed by families on behalf of their children who have autism or a similar condition," according to the court.
The other cases heard were Cedillo v. Secretary of Health and Human Services, Case No. 98-916V, concluded on June 26, and Snyder v. Secretary of Health and Human Services, Case No. 01-162V, concluded on Nov. 9.
"They picked us," Angela said. "What an honor to represent these 5,000 children as well as Yates Hazlehurst."
"The court will probably not render a verdict until summer," Rolf said.
The question raised is: Do vaccines cause autism?
The three cases cover these categories: 1. Thimerosal-containing vaccines and MMR; 2. Thimerosal only; 3. MMR only (booster shot).
The Hazlehursts' testimony can be found and read at www.uscfc.uscourts.gov/ or you can listen to the audio version.
The couple just returned from the National Autism Association Conference in Atlanta, where they heard this startling statistic: "It's up to 1 in 74 children now," Angela said. "One in six children have neurodevelopmental delays."
The Institutes of Medicine is now using the term "epidemic" to refer to autism, she said.
"And it takes more than $4 million over the life span of an autistic child to raise them," she added.
"We would not have had a prayer if it had not been for my parents," Rolf said.
"Eighty percent of parents divorce if they have an autistic child," Angela said. "We have had such a good support group around us."
The Hazlehursts also have been interviewed for a documentary film being created by Jenny McCarthy, who has written a book, "Louder Than Words," about her son who is autistic.
"Her son is doing really well," Angela said. "She's spent about $4,000 a week on his care. He's had the very best there is. Jenny is also planning on coming here to do some filming as well."
On Nov. 19, Angela was invited to become spokesperson for the Comprehensive Autism Policy Initiative and to meet with each presidential candidate.
"So far Barack Obama has committed to meet, but I can't imagine that the others will not because this issue is so significant in terms of health care, vaccines and government policies," she said.
The Hazlehursts said they are limited in discussing their case because of the pending litigation.
"But there are things parents need to know, things I have to say to all of West Tennessee," Angela said. "Yates didn't sleep for two years. But there are resources for parents. They need to know that early intervention is the key."
Yates was diagnosed in June 2002, and Angela was quick in getting him to Vanderbilt Medical Center. Because Rolf was so excited about his first-born, he had videotaped his baby son repeatedly - and it was that documentation that provided information for the court. Yates also has been seen by some of the top doctors in their fields at Vanderbilt, Johns Hopkins, Harvard and many other medical centers.
"Not many families have the documentation that we had from the beginning," Rolf said.
The couple filed their claim with the National Vaccine Injury Compensation Program in March 2002. The special master moved the court case to Charlotte to hear because the Hazlehursts' board-certified child neurologist, Dr. Jean Corbier, couldn't go to Washington, D.C., to testify.
Angela wanted one thing clear: "I'm not a mom who's against all vaccinations." But the rise in autism cases has parents worried about what to do, she said.
Dr. Vernessa Davis-Tharpe, a pediatrician at East Jackson Family Medical Center, said she understands parents' fears.
"I usually tell parents that there's no scientific evidence that vaccines cause autism. I vaccinated all my children, and I wouldn't do that unless it were safe," she said. "But I also tell them, 'You have to make your decision for your child.' I tell them the benefits and the risks. But if they make it clear they are not going to do it, then I will work with them. There are some pediatricians in town who will expel them from their practice."
Davis-Tharpe also said if the child goes to school, "I can't sign off on their refusal as a religious exemption or a medical exemption when school starts."
That issue has arisen in news stories recently as Judge Philip Nichols in Upper Marlboro, Md., ordered parents to get their children vaccinated or go to jail from 10 to 30 days.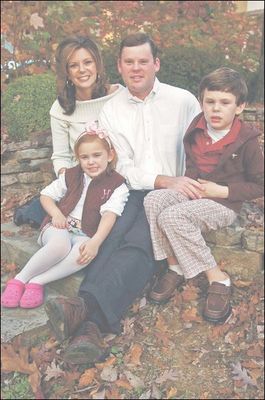 ©Jackson Sun
Rolf and Angela Hazlehurst sit with their son Yates, 7, and daughter Sarah, 5, in front of their home on Monday in Jackson. They recently testified in national class action lawsuits related to autism possibly caused by vaccines. Only three test cases were chosen from across the nation, and Yates was the second test case.

A family's story reveals the changes
The scientific experts testified at the national trial. But the testimony of the mom, dad, aunt and grandmom painted the picture of Yates.
Ann Gerrard, Rolf's sister, testified that Yates played with her daughters, ages 2 and 3 1/2 years, giving them a ball, pretending to read little books and playing peekaboo.
At Christmas 2000, Gerrard's girls drove a little blue police car with Yates in the passenger seat, talking baby talk on a plastic phone. In January 2001, he could take a few steps. She said his words were "da, bye-bye, peas (for please), tank (thank you), juice and bubba (bottle).
He received an MMR, Hib, hepatitis B and Prevnar vaccination on Feb. 8, 2001, just before his first birthday. The first dose of the MMR vaccine is recommended at 12 to 15 months of age by the National Immunization Program.
"Three days past his vaccine, at his birthday, he's dazed," Angela said. "Twelve days after, he had a red, bumpy rash. We didn't recognize it as a reaction. A month after that, in the bathtub, I'm saying, 'Yates, Yates' and he won't look at us anymore."
"He went from being just a joy to see, to just being a terror," Gerrard said.
He ran wildly. He wouldn't play with his cousins. He wanted to turn over the doll stroller and spin the wheels. His grandmother, Aud Hazlehurst, testified that he "was sick all the time."
In early 2002, Angela said, "His meaningful speech was gone," yet he was lining up letters and numbers in order.
"We thought he was a genius," Rolf said.
Because Yates wouldn't respond, they decided it must be his hearing. Rolf said, "I remember the sick feeling I had when his hearing was tested and the tests came back normal."
Eventually his ribs were showing and his belly was distended. Diagnosed with autism in June 2002, he began treatment for gastrointestinal issues, a symptom of autism. In April 2003, he was put on a gluten-free, casein-free diet, digestive enzymes and other medications.
Under medical treatment and Applied Behavior Analysis, one of the only scientific methods proven to be successful with autistic children, he's in special education at Arlington Elementary.
Jenny Hayes, his ABA therapist, said Yates was her first client.
"At 2, he had no words at all. All he did was scream all day," she said. "Now he says full sentences, mostly what he wants or needs, and is able to express some feeling to his mom and dad."
Hayes, who attended the trial in Charlotte with the Hazlehursts, said their main goal is to get Yates integrated into a regular class.
She said there's no way to know how far Yates will go.
"We're retraining the brain. Yates is still acquiring new skills, and he's learning," Hayes said. "Yates is just a very lovable kid, and that is so rare in autism. He'll come up and want a hug."
"We're still making progress," Angela said. "You know if life gives you lemons - we're making lemonade at the Hazlehursts'."
Yates has a "loving little sister Sarah, who's 5 years old, and helps us hold it all together," Angela said. "On our 11th wedding anniversary, we got baby sitters and went out. Rolf wrote 11 reasons why he still loves me and No. 11 is, 'You've still got it.'"
She said when Rolf called to tell her that they'd been chosen to be test case No. 2 before the U.S. Court of Federal Claims, "This peace came over me. I've finally found out 'why.'"
Then she added, "What's our ultimate goal? I want to have a conversation with my son someday."
- Jacque Hillman, 425-9679