Military ships and helicopters were trying on Saturday to reach thousands of survivors of a super cyclone that killed more than 1,600 people and pummeled impoverished Bangladesh with mighty winds and waves.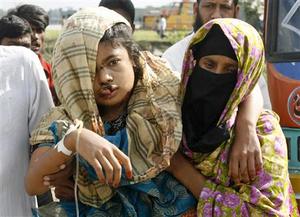 ©REUTERS/Rafiqur Rahman
A mother in a veil takes her injured daughter to a hospital in Barisal district town, south west of the Bangladesh capital Dhaka, November 17, 2007.
Cyclone Sidr smashed into the country's southern coastline late on Thursday night with 250 kph (155 mph) winds that whipped up a five meter tidal surge. It was the strongest cyclone since a 1991 storm that killed some 143,000 people in Bangladesh.
Navy ships scoured coastal areas for hundreds of people reported missing and sought to clear river channels clogged with sunken vessels to restore normal navigation, officials said.
Helicopters flew sorties to devastated areas, dropping food, drinking water and medicine for the survivors.
"We are here to help you. You help us by allowing a safe landing and keeping a safe distance," the pilot of a helicopter warned people in Mathbaria, Barisal district, as they thronged towards his craft, television pictures showed.
The official death toll rose to 1,595 late on Saturday and disaster ministry officials said it was likely to rise further. Private television channels said the death toll had already crossed 2,000.
"It will take several days to complete the search and know the actual casualty figure and extent of damage to property," said food and disaster ministry official Ayub Miah.
Trees felled by the storm blocked roads, hampering relief efforts. "It's an uphill task," said an official in Barisal.
Fakhruddin Ahmed, head of Bangladesh's army-backed interim government, asked officials on Friday to "ensure bodies are buried quickly" to avoid the spread of disease.
The U.S. navy, which helped after a devastating storm in 1991, was reportedly ready to send two ships with helicopters to assist rescue efforts, although Foreign Secretary Touhid Hossain told
Reuters
no formal offer had yet been received.
TV pictures on Saturday showed people in cyclone-hit areas returning from shelters to what now looked like heaps of debris.
"Where is my home? Where is my family?" wailed an elderly woman standing by the flattened remains of a house covered with fallen tree branches. "Why have I come back? How shall we live?" said another woman in Mathbaria village.
Diarrhea was affecting some areas, one villager said, adding: "We desperately need food and clean water".
Red Crescent officials said some 1,000 fishermen and about 150 boats were still unaccounted for in the Bay of Bengal.
AID PLEDGES
Aid officials said damage from the storm, which blew away homes and ripped out trees and power lines, was very severe.
Most of Bangladesh was dark on Friday after the electricity grid was knocked out. Parts of Dhaka, the capital city of 10 million people, were still without power on Saturday.
"Our relief teams have started emergency distribution, with an initial coverage of 100,000 people," charity World Vision's Bangladesh national director Vince Edwards said in a statement. "However, several areas are inaccessible right now due to fallen trees,".
In many areas, 95 percent of rice crops due to be harvested in a few weeks have been badly damaged, officials said, with hundreds of shrimp farms also washed away.
"Many people are homeless, crops and livelihoods have been destroyed and this is going to put great pressure on the government, the economy, and the people themselves," said Suman SMA Islam, CARE's humanitarian assistance coordinator in Bangladesh.
The European Union has given 1.5 million euros ($2.1 million) in aid, with another $293,000 allocated by Germany.
"This is a major tragedy with hundreds already known to have died and hundreds of thousands suffering," said Louis Michel, European Commissioner for humanitarian aid.
In New York, John Holmes, the U.N. undersecretary-general for humanitarian affairs, said his office would make "several million dollars" in emergency aid available.
The aid arm of Spanish Foreign Ministry AECI said in a statement in Madrid it was sending 750,000 euros of aid to Bangladesh post cyclone.
(Additional reporting by Ruma Paul, Nizam Ahmed and Serajul Islam Quadir; editing by Sami Aboudi)