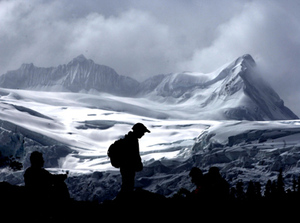 ©Xinhua
Photo taken on September 20, 2007 shows an unidentified man walking past a group of glaciers in Bomi County, Southwest China's Tibet Autonomous Region. A group of 42 glaciers were found in the county with an average altitude of 4,200 meters above sea level in the southeast of the region. It could be the biggest glacier group on the Qinghai-Tibet plateau.
The rapid shrinking of the country's most famous glacier is severely threatening oases in the Xinjiang Uygur Autonomous Region, scientists warned Thursday.
Glacier No 1, which lies at the headwaters of the Urumqi River in the Tianshan Mountains, has shrunk by close to 14 percent in the past four decades, an unpublished survey by the Chinese Academy of Sciences' (CAS) arid regions environment and engineering research institute showed. The glacier now covers 1.68 sq km.
"Because of the continuous rise in temperature globally and in the western part of the country, the trend of glaciers retreating on a large scale will be irreversible," the report stated.
The shrinking of glaciers may lead to an increase of glacial water in the rivers in the short term but this water will eventually diminish and droughts may follow, the CAS reported.
The report added that glaciers in the western part of the country have shrunk by 4.5 percent in four decades.
Glacier No 1 alone retreated by 80 m between 1962 and 1980, and a further 60 m between 1980 and 1992. In 1993 it split into two because of the shrinkage.
CAS academician Qin Dahe said the glacier has been retreating by up to 6 m every year since 1993. Inland provinces are constantly threatened by droughts and stand to suffer most from glaciers shrinking.
Glaciers feed 25.4 percent of Xinjiang's rivers, 8.6 percent of the Tibet Autonomous Region's rivers and 3.6 percent of Gansu's rivers.
The amount of water the country gets from glaciers every year is similar to the amount that flows into the sea from the Yellow River in the same period.
China ranks fourth in the world in terms of both area and ice volume of glaciers, after Canada, the United States and Russia. Its glaciers cover 59,406 sq km and have a total ice volume of 5,590 cu km.