No fewer than 60 communities have either been submerged or ravaged by a charging flood in four states of the Niger-Delta, specifically, Delta, Edo, Bayelsa and Ondo states in the past few weeks with more than 120,000 persons reportedly dislodged following the overflow of the River Niger and the bordering tributaries
Vanguard
learnt that the kind of flooding that was experienced, this year, has never been experienced in the riverside communities of the Niger-Delta in the past five decades and the situation was not helped by the fact that most of the communities do not have foreshore protective walls and there was no piling or concrete measures taken to prevent flood disaster.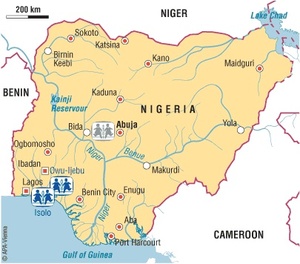 ©APA - Vienna
Worse hit is Delta state where at least 50 communities were affected at Ndokwa-East, Patani, Bomadia and Burutu local government areas. The palaces of two royal fathers Ajie Chuejine Oni and the Okpala-Ukwu of Utchi community in Ndokwa-East were destroyed in addition to other residential buildings, farmlands, economic crops, domestic animals in the endangered communities.
The Ijaw National Congress (INC), Western zone, led by Chief Samson Mamamu, weekend, appealed to the local, state and federal governments, relief agencies, corporate bodies, Non Governmental Organizations (NGOs) and public-spirited individuals to come to the aid of the communities in the Ijaw nation that were submerged by the continuing destructive flood.
In Ndokwa, the affected residents at Obeche, Oboma, Owelle-Obalu, Umuochi, Okwumedo, Opata, Agweuchi, Agwu Umuochi, Awulu and Ukwu - Okwute were said to be squatting with relations.