BLITAR, Indonesia - Pressure at a simmering Indonesian volcano on Java island escalated Friday, a geologist warned, as armed police forced some defiant villagers to evacuate ahead of a potential eruption.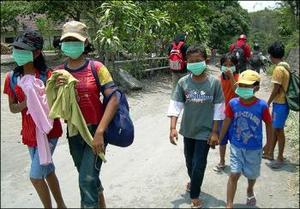 ©AFP
Indonesian youths wear masks to guard against poisonous gases, as they wait to be evacuated from their village
Tremors rocked Mount Kelut, a 1,731-metre (5,712-foot) peak about 90 kilometres (55 miles) from Indonesia's second city of Surabaya, for nearly an hour, the top volcanologist at the monitoring station, Kristanto, told AFP.
The tremors, which cannot be felt in the area surrounding the peak, began at 0800 GMT and lasted for 50 minutes. The previous longest tremor since the volcano was put on red alert on Tuesday had lasted just 45 seconds.
"This means that the magma is trying to break through a frozen-magma layer (at the top of the volcano). We're closely monitoring whether the energy released from below will be able to break it out," he said.
The geologist said he predicted the eruption would be comprised of "heat clouds" consisting of searing gases and volcanic debris rushing down the slopes, similar to the most recent eruption in 1990 that left 34 dead.
Some 116,000 villagers have been evacuated from the fertile land around Kelut's slopes, but many have defied local officials' orders to stay away and returned home to tend their farms and to protect against possible looting.
Asked by reporters to confirm whether police had threatened villagers with guns to get them to leave a 10-kilometre danger zone around the peak, local police chief Tjuk Basuki said: "Yes, some individual officers did so, but we wouldn't get into any physical contact."
"This is for their own good. The volcano is at a dangerous stage," he added.
He did not say how many villagers were forced to leave, but thousands insisted on staying put or at least returning during the day.
Five farmers sought medical care after they breathed poisonous gases seeping from the earth while tending their fields on the volcano's slopes.
In Kampung Anyar, a village eight kilometres from the crater, about 350 residents insisted they could protect themselves.
"When Kelut erupts, we will all stay in our homes and not talk, not turn on the lights, or candles or even a single match until the next daybreak," Sugeng, 45, told AFP.
Kampung Anyar was built by people from two villages who survived the 1990 eruption.
"The two villages were too close to the crater, so we moved here," Sugeng said.
The World Health Organisation and local officials have mobilised 100 medical staff, placed 200 health facilities on alert and established 41 outreach health posts in anticipation of an eruption, the UN said in a statement.
Emergency health kits, masks and other essential equipment have also been prepared, it said.
Separately, a so-called "mud volcano" located 68 kilometres northeast of Kelut has increased its flow to about 130,000 cubic metres per day amid the rising seismic activity in the area, Soffian Hadi Djojopranoto, deputy head of a government team monitoring the mud volcano, told AFP.
The mud began spurting at an exploratory gas drill in May last year and the company operating it has been blamed. But the company insists a major quake that struck the Java city of Yogyakarta just beforehand was the trigger.
Officials said in September that the flow increased then from 70,000 cubic metres a day to 100,000.
"
We have no reference to forecast what will happen if Mount Kelut erupts
," Djojopranoto warned.
More than 15,000 lives have been claimed since record-keeping began of Mount Kelut's eruptions, including an estimated 10,000 in a catastrophic 1586 eruption.

A 1919 eruption spewed heat clouds that killed 5,160 people. The last eruption in 1990 left 34 people dead.

Indonesia sits on the Pacific "Ring of Fire," where continental plates collide, causing frequent seismic and volcanic activity. The archipelago nation is home to 129 active volcanoes, including 21 on Java alone.