Extended torrential rain in central Quang Nam Province yesterday killed one person and caused many heavy landsides, said a source from the Quang Nam Storm Flood Prevention Department.
The rains led to flooding, and swept away a primary school teacher on his way home. The rains, quickly raising the water levels in local rivers, caused 27 landslides in the central province's six mountainous districts, blocking a mountain route. The rains have concerned the 1,500 residents near Tra Can Lake in Dai Loc District, and others in Dai Hiep Commune are preparing to flee.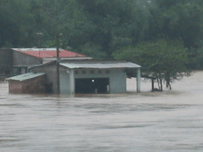 ©n/a
A house in Hoa Nhon Commune in Da Nang is submerged by heavy floods
In Da Nang, rains forced 14,000 schoolchildren in the Hoa Vang District's villages of Hoa Phu, Hoa Bac, Hoa Lien, Hoa Ninh, Hoa Nhon, Hoa Phong and Hoa Khuong to temporarily stop their studies.
The one-meter-high water level flooded the villages of Thach Nham Tay, Phuoc Thai, Thai Lai and Ninh An in Hoa Nhon Commune, and Tuy Loan Tay in Hoa Phong Commune, forcing locals to escape by motorboat.
Dinh Van Thong, vice chairman of Hoa Nhon Commune's People's Committee, said 388 houses in nine villages were flooded from 0.5 to one meter. He added 25 families in low-lying parts of Hoa Bac Commune are preparing to move to higher ground.
Around 1,000 residents of Hue have been swiftly evacuated to higher grounds, authorities said.
Yesterday, the National Hydrometeorology Forecast Center of Vietnam said the heavy rains on October 15 and 16 in central provinces from Quang Tri to Quang Nam, with a rainfall of 200 to 250 millimeters, caused river waters to rise from warning level one to three (from 0.2 to 0.87 meter), the highest warning level.