Indonesia raised on Tuesday the alert level for Mount Kelud volcano to the highest level, as residents started fleeing amid signs an eruption could be imminent, officials and a witness said.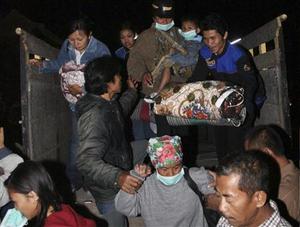 ©REUTERS/Dimas Aro
Villagers living near the Mount Kelud volcano arrive at a temporary shelter in Wates village, October 16, 2007, after fleeing from their homes.
The number of volcanic earthquakes at Mount Kelud, 90 km (55 miles) southwest of Indonesia's second-largest city Surabaya, had soared to more than 300 in a six-hour period from late morning, the country's top volcano expert said by telephone.
"An area 10 km from the crater should be evacuated," said Surono, head of the Centre for Volcanology and Geological Hazard Mitigation in Bandung.
The alert level was raised to maximum "based on the seismic activity, deformation, visual observation and the temperature of the crater lake going up", according to the centre's Web site (www.vsi.esdm.go.id).
An estimated 350,000 people live within 10 km of the volcano on Java island, growing coffee, sugar cane, pineapples and papayas on the rich volcanic soil or feeding their cattle on the volcano's slopes.
"People are panicking as they are heading towards the evacuation areas," a
Reuters
witness said by telephone from the area. "They are facing water and sanitation problems as the evacuation sites have not been properly equipped."
Surono, who said that the evacuation had started at 7 p.m. (1200 GMT), warned that residents should steer clear of rivers near the volcano in case of flows of lahar, a mix of hot stones and water.
They were also urged to prepare face masks to protect against possible ash clouds from the 1,731-metre (5,712-foot) volcano causing eye irritation or respiratory problems.
The crater lake on Kelud makes it harder to monitor than many of the other volcanoes scattered across Indonesia's archipelago, as some of the warning signs are concealed below the water's surface.
Saut Simatupang, another official at the centre, said the crater lake had started to change color indicating increasing sulphur levels.
"On the east and the north of the lake, it has started to turn white with sulphur." When Kelud last erupted in 1990, at least 30 people were killed, while an eruption in 1919 killed about 5,000 as it ejected scalding water from its crater lake.
Indonesia, which sits on a belt of intense seismic activity known as the Pacific Ring of Fire, has had several volcanic eruptions over the centuries.