Heavy rains hit a number of provinces in the Democratic People's Republic of Korea (DPRK) this week causing enormous losses, the official
Korean Central News Agency
(KCNA) reported Thursday.
Since Tuesday, up to 30 cm of rain fell in the provinces of South Phyongan, North Hwanghae and South Hwanghae, the KCNA said.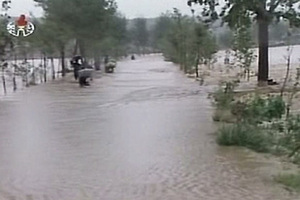 ©MWC
The floods have wiped out large areas of farmland, North Korean state media reported.
The capital city of Pyongyang was also struck by over 268 mm of rain in the past two days.
"Torrential rain and strong winds have caused enormous losses in many areas," said the KCNA.
Heavy rains have hit most parts of the DPRK last month, leaving at least 600 people dead and 100,000 people homeless.