New York state and New York City have jointly sued Merck & Co. for allegedly concealing safety information about Vioxx, joining a half-dozen states that have sued the drug maker since it withdrew the painkiller three years ago amid concerns about dangerous side effects.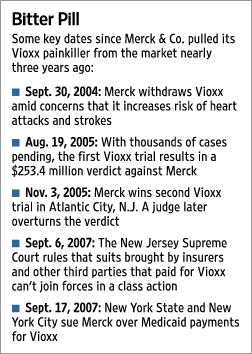 ©n/a
The complaint, brought by the offices of Attorney General Andrew Cuomo and Mayor Michael Bloomberg, seeks restitution for tens of millions of dollars allegedly spent on Vioxx through Medicaid and a prescription-drug assistance program for the elderly between 1999 and 2004.
States develop lists of preferred drugs that they will pay for, and New York officials might have chosen cheaper alternatives to Vioxx had its risks been known earlier.
When asked about the timing of the suit, Jeffrey Lerner, director of communications for Mr. Cuomo, said, "One of the priorities for this AG, who has been in office only 10 months, is to focus on Medicaid fraud."
The complaint alleges that "Merck tried to distort each negative disclosure about Vioxx. Merck cherry-picked outcomes from its own research, omitting material information that would have communicated Vioxx's real cardiovascular dangers."
A statement released by Mr. Cuomo's office said the company's "irresponsible and duplicitous conduct endangered the health of New Yorkers and wasted our tax dollars....Merck put profits above all else and put thousands at risk by continuing to push Vioxx inappropriately on doctors and patients."
Merck outside spokesman Kent Jarrell said, "We are confident that our behavior has been responsible. Merck based its decisions on the data from well-controlled clinical trials and acted in the best interest of patients."
Merck withdrew Vioxx from the market in September 2004 following a study that linked the drug to an increased risk of heart attacks and strokes. The company currently faces roughly 28,000 lawsuits.
Of the 15 that have gone to trial, Merck has won 10 and lost five.
The company has said it will fight the cases one by one.
The Whitehouse Station, N.J., company recently got a big break when the New Jersey Supreme Court ruled that suits brought by third-party payers such as insurers and pension funds couldn't be consolidated into a nationwide class action, clearing one of the largest litigation threats to the drug maker.
Legal experts say it can be hard for plaintiffs to win the kind of actions brought by New York officials. However, the tobacco industry in 1998 entered into a comprehensive settlement with the states following years of litigation and a trial.
"Ordinarily, these kinds of lawsuits ride on the coattails of the lawsuits filed by the plaintiff's bar and are designed to get a seat at the settlement table," said Peter A. Bicks of Orrick, Herrington & Sutcliffe, a corporate-defense attorney who isn't involved with the Vioxx litigation. "But Merck hasn't issued any invitations to the dinner yet."