More than one million people have been evacuated or stranded as rivers in northeastern India and Bangladesh rose to alarming levels and submerged vast swathes of countryside, officials said Monday.
In India's Assam state, the army helped shift an estimated 800,000 people as the Brahmaputra river and its tributaries -- swollen by monsoon rains -- breached their embankments late Sunday.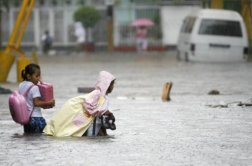 ©Reuters
A further 300,000 people further downstream in Bangladesh were displaced or marooned, most of them for the second time in as many months, officials said.
"The flood situation has worsened," Assam state's relief minister Bhumidhar Barman said, adding that thousands of villages had been inundated and 20 of 27 state districts had been affected.
An official bulletin said the massive Brahmaputra, which flows from Tibet through India to Bangladesh and the Bay of Bengal, was above the danger level in 17 places.
The army is working overtime in the affected areas and we have kept on standby Indian air force helicopters to carry out relief and rescue," he said.
Soldiers rescued villagers marooned by waters in six hard-hit districts in Assam, a state of 26 million people, he said.
"Most of the displaced people are now lodged at makeshift shelters in schools and offices, as well as on raised embankments," said Barman, describing the flooding as the "one of the worst in recent years."
The Assam government says 54 people have died in monsoon flooding this summer, while across India more than 2,500 people have perished, over a quarter of them in Bihar state, according to official figures.
In Bangladesh, farmers had to flee their homes again and took shelter on highland and in schools as rivers burst their banks and submerged vast areas in 25 out of the country's 64 districts, government spokeswoman Mohsena Ferdousi said.
"Most of these people had just returned home to pull their life together," she said.
In Sirajganj town, almost all the houses are now under knee- to neck-deep water, said resident Enamul Kabir.
"The water receded from the town only in mid-August. I don't know how we are going to manage this time," he said.
The toll since the start of monsoon rains in June stands at 966, including deaths from water-borne sickness, snake bites and landslides as well as drowning.
At least 10.5 million people were displaced or marooned in the first spell of the floods.
The country's flood centre said two major Himalayan rivers that empty into the Bay of Bengal through Bangladesh -- the Brahmaputra and the Ganges -- had risen alarmingly in tandem.
Muslim-majority Bangladesh, which has a population of 140 million, has sought an initial 150 million dollars in help from donor agencies with 60 million dollars already pledged as immediate food and medical assistance.
The agriculture ministry estimated that 290 million dollars' worth of crops had been damaged in the initial flooding. The cost to infrastructure and housing has yet to be determined.
Every year floods across India and Bangladesh leave a trail of destruction, killing people, damaging property, washing away roads, submerging crops and drowning livestock.