Large swathes of Bangladesh were underwater again on Sunday after heavy rains, adding to the misery of millions hit by flooding that has killed more than 830 people since late July.
Weather officials said that nearly 20 of the country's 64 districts were flooded after three days of rain swelled major rivers flowing through India into Bangladesh.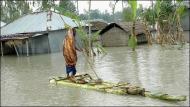 ©AFP
A Bangladeshi woman uses a raft to cross a flooded field in Sirajgonj district of Bangladesh.
At least three people, including a child were drowned, raising the death toll to 833 from monsoon flooding since late July, officials said on Sunday.
Heavy showers caused water logging in the Chittagong port city, disrupting traffic, local residents said.
Hundreds of shanty homes were inundated along the country's Cox's Bazar coast as rain and winds set off a "moderate surge" in the Bay of Bengal, meteorology officials said.
The rains have also triggered fresh floods in the Indian states of West Bengal, Bihar, Uttar Pradesh, Assam, Meghalaya and Arunachal Pradesh, the officials said.
Thousands of Bangladeshi families that returned to devastated homes after the previous flood had receded in most areas were forced to flee again, disaster management officials said.
Witnesses in the northern Gaibandha district said many people had headed to highways and embankments for safety, while others had taken refuge on boats or on the roofs of houses.
The floods covered vast areas in the country's northeast and southern areas, disrupting communications and, with rains continuing on Sunday, more areas were expected to be engulfed.
The fresh floods inundated newly planted rice and other crops on more than a million hectares.
"The previous floods washed away my house, cattles and crops ... but I had started to piece life together," Gaibandha villager Shahed Ali told reporters. "I managed to replant some seedlings but they have been destroyed again."
Floods kill hundreds of people and wreck the lives of many more in Bangladesh every year, but this year's deluge has been the worst since 2004 when floods killed more than 3,000 people.
The Flood Forecasting and Warning Centre (FFWC) in Dhaka said worse could lie ahead because the annual monsoon was still very active in the Ganges, Meghna, and Brahmaputra river basins.
"Experience shows that the floods of late August or September last longer," said FFWC head Saiful Hossain.
The meteorological department forecast heavy to very heavy rain in various parts of the country over the next 24-48 hours.