Tropical storm warnings have been issued for for the islands of Aruba, Bonaire, Curacao, St. Vincent, the Grenadines and Grenada. Felix also threatens Venezuela's northern coast.
At 4 a.m. CST, the center of Tropical Storm Felix was located about 30 miles northwest of Grenada.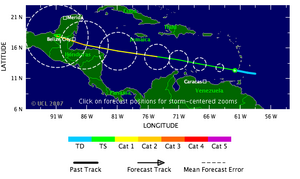 ©TSR
Felix is moving toward the west near 18 mph and this general motion is expected to continue during the next 24 hours. On this track, felix will move away from the southern windward islands later this morning and will be passing near the islands of Aruba, Bonaire and Curacao late tonight or early Sunday morning.
Maximum sustained winds have increased and are now near 40 mph, with higher gusts. Some strengthening is forecast during the next 24 hours. An Air Force Reserve Hurricane Hunter Aircraft is scheduled to investigate Felix later this morning.
Tropical storm force winds extend outward up to 45 miles to the north from the center.
Estimated minimum central pressure is 1007 mb, 29.74 inches.
Felix is expected to produce additional rainfall accumulations of 1 to 2 inches across the windward islands with storm total amounts of 7 inches possible.
An intermediate advisory will be issued by the NHC at 7 a.m. CST, followed by the next complete advisory at 10 a.m. CST.