A mandatory evacuation was ordered Saturday for residents of more than 1,000 homes south of Ketchum, where a massive wildfire raged and high winds grounded firefighting air tankers.
After three days of relative calm, the 39-square-mile fire was 38 percent contained, but embers blew ahead of the blaze and increased the threat of spot fires, fire spokesman Bob Beanblossom said.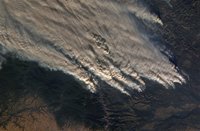 ©AP/NASA
This image provided by NASA Thursday Aug. 16, 2007 was taken by one of the crew aboard the International Space Station of wide-spread forest fires in the Payette National Forest, Central Idaho within the Salmon River Mountains Monday.
"At this point in the mandatory evacuation, we're giving people the opportunity to get out during the daylight and to keep the highways clear for emergency response vehicles," said Kim Rogers, public information officer with the city of Ketchum.
Another 100 homes remained under a mandatory evacuation order from last weekend, including some worth millions of dollars in the resort area of central Idaho. A shelter was set up at a former high school in the town of Hailey, said Dick Rush, CEO of the American Red Cross for Idaho.
No structures had been reported lost to the lightning-sparked blaze, although winds were gusting to 25 mph, Beanblossom said.
In California, a seven-week-old wildfire in the Santa Barbara County wilderness showed bursts of life Saturday despite firefighters' significant progress.
The blaze was 83 percent contained Saturday evening after burning 239,468 acres, or about 374 square miles, of steep backcountry.
A recommended evacuation was in effect for about nine square miles west of Highway 33, according to an update by fire officials issued Saturday.
The fire was about 15 miles away from the community of Ojai and did not threaten any other large communities, officials said. Despite its size, the fire has only destroyed one structure, an outbuilding.