If you're going to rob a bank, it's not a bad idea to wear a disguise.
A balaclava will probably do the trick. So too, a pair of stockings slipped over the head. You might even get away with painting your face like a clown.
James Coldwell, 49, decided to go against the grain when he strolled into the Elm Street branch of the Citizens Bank in Manchester, New Hampshire, in the United States on Saturday morning, police say.
"Right after the bank opened a subject walked into the bank with tree branches and leaves duct-taped all over his body," Detective Sergeant William Davies told the
Herald
.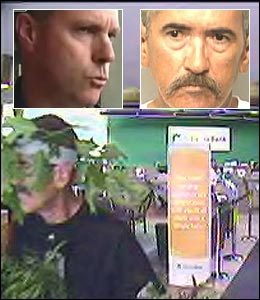 ©n/a
Captain Dick Tracy, top left, and the wood-be robber James Coldwell, top right, in his disguise as a tree in a bank branch.
"He went right to the front of the line, handed the teller a bag and he told her to fill it up. She put some money in the bag and he left the bank with less than $1000.
"The teller had put a dye pack in the bag which exploded so he dropped the money in the parking lot [outside the bank] and then he fled the scene."
It didn't take long, however, for Detective Sergeant Davies and his supervisor at the Manchester Police Department, Captain Dick Tracy, to track down the branch bandit.
A security camera inside the bank had snapped a side profile of the man as he left the building adorned in foliage.
"We obtained some of the video surveillance and showed it on the local news and a couple of people thought they recognised the subject," Detective Sergeant Davies said.
"We didn't have a full name, just a first name. But they told us where he hung out and eventually we tracked down who they were talking about."
Coldwell was arrested at his house, about a kilometre from the bank, and later charged with robbery.
Detective Sergeant Davies said he had never dealt with such a bizarre bank robbing technique.
"You know, I haven't. That was strange. You know, a bandanna, a hat and sunglasses, but never tree branches."