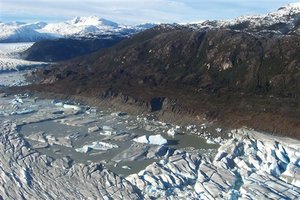 ©AP Photo/HO/Chile Navy
This picture taken from a Chilean navy shows large pieces of ice and some areas with water at the bottom of a lake in southern Chile that was discovered dried up late may.
SANTIAGO, Chile - Scientists on Tuesday blamed global warming for the disappearance of a glacial lake in remote southern Chile that faded away in just two months, leaving just a crater behind.
The disappearance of the lake in Bernardo O'Higgins National Park was discovered in late May by park rangers, who were stunned to find a 130-foot deep crater where a large lake had been.
After flying over the lake Monday scientists said they were able to draw preliminary conclusions that point to climate change as the leading culprit for the lake's disappearance.
They suggested the melting of nearby glaciers raised the lake's level to the point where the increased water pressure caused part of a glacier acting as a dam to give way. Water in the lake flowed out of the breach, into a nearby fiord and then to the sea, said Andres Rivera, a glaciologist with Chile's Center of Scientific Studies.
Rivera, accompanied by an expert from the Chilean Antarctic Institute, flew over the site in a navy airplane, taking hundreds of photographs.
"On one side of the Bernardo glacier one can see a large hole or gap, and we believe that's where the water flowed through," Rivera said in a navy communique. "This confirms that glaciers in the region are retreating and getting thinner."
He said that the bottom of the vanished lake again has some water, likely from the melting ice.
Similar phenomenon have occurred before in the southern Magallanes region.
As glaciers retreat lakes form behind natural dams of ice or moraine, earth and stones pushed up by a glacier. Those relatively weak dams can be breached suddenly, causing the lake to drain.
The advance and retreat of glaciers is part of the normal dynamics of the Patagonia but climate change was distorting the process, Rivera said.
"This would not be happening if the temperature had not increased," Rivera said.
The navy communique said the missing lake was the smaller of a two-lake system. The larger one remains but at a lower level.