An extremely rare albatross has been seen for the first time ever in Britain after it lost its way in bad weather.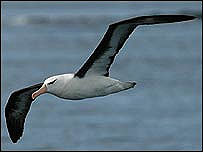 ©BBC
The young yellow-nosed albatross, which has only been seen once in Europe, was found at a holiday camp exhausted.
Camp owner Hugh Harris, 76, said: "It was most unusual. It was just squatted down - I think it was absolutely worn out."
The white and grey bird, native to South America and India, was taken to experts to be identified.
Pauline Kidner, who runs the wildlife sanctuary in Highbridge, Somerset, said: "When it opened its wings and its span was two metres we appreciated it was something very unusual."
The RSPB said: "It must have got the wrong side of the equator then got caught in northerly winds.
"It's once in a lifetime albatrosses land in Britain - but it's unique for this species." The albatross was released into the wild from a cliff. Mrs Kidner said: "It went into the sky and was gone in minutes."