Tens of thousands of Britons were left without power in northern England on Monday after an electricity substation flooded so badly engineers were only able to get back into it on Tuesday, network operator National Grid said.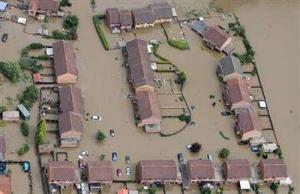 ©REUTERS/Owen Humphreys
Aerial view of the flooded village of Catcliffe near Sheffield, following two days of heavy rain which caused floods in Yorkshire, June 26, 2007.
About 35,000 homes and businesses had their electricity cut on Monday after the Neepsend substation in Sheffield flooded in torrential rain.
"It was so badly flooded that it was inaccessible until this afternoon," a spokeswoman for the grid operator said.
By re-routing supplies, she said regional electricity distributor CE Electric UK was able to restore supplies to many customers on Monday, but that some 13,000 were still without electricity on Tuesday.
CE Electric said in a statement that in total some 86,000 customers were left without power by Monday's torrential rains and subsequent flooding and that 46,000 were still without electricity on Tuesday.
Meanwhile hundreds of people were evacuated from their homes in northern England on Tuesday as officials warned a dam could collapse under the weight of the water building up behind it and the erosion of the dam's earth wall by the flooding.
There is another substation, at Brinsworth, just yards down the valley from the Ulley dam near Rotherham, which would also likely flood were the dam to break.
The widespread flooding, which has killed at least three people in England, comes as dozens have died in a heatwave in southeast Europe.
Many scientists say that climate change will probably bring more frequent torrential rain storms and blistering heatwaves to regions that have rarely been afflicted by such extreme weather events in the past.