A bodybuilder who claimed £43,000 in disability benefits despite being fit enough to win a strongman contest is facing jail.
Jon Stentiford, 35, insisted he had crippling back pain while secretly putting himself through a gruelling training schedule.
The 'disabled' man went on to dominate Cornwall's Strongest Man contest in 2003.
Despite the publicity surrounding him, the father-of-two was able to continue claiming benefits because he had entered the competition under a false name.
Stentiford won the title and £300 in prize-money after holding 50lb weights at arm's length, carrying two gas bottles over an obstacle course and heaving a large truck along a road.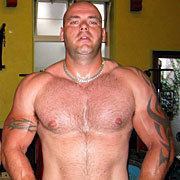 ©unk
Strong man Stentiford
He even lifted a half-ton Mini Metro car off the ground for more than a minute.
But the swindle was exposed when Government investigators received an anonymous tip-off.
Stentiford, of St Neot, Cornwall, admitted four charges of falsely claiming benefits.
He is to appear at Truro Crown Court for sentencing today and could face a jail term, a judge said.
At an earlier hearing, the court heard 6ft 4in Stentiford started claiming disability benefits for sciatica in 2002.
The condition can cause intense pain in the lower back and legs.