After last week's record high temperatures have given way to an even more unusual contrast.
The sun chairs set out in Tynset in Hedmark County were covered in snow on Thursday morning.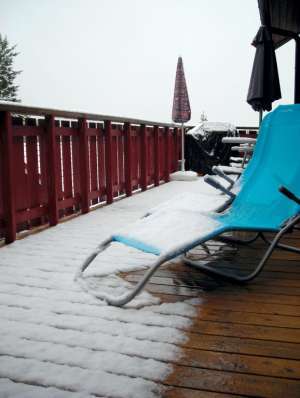 ©Mali Hagen Røe
Recently used summer furniture covered by snow.
"
This is extreme. We are after all in the middle of June
, and it is especially remarkable given the high temperatures we have just had. I cannot remember similar cases," Øyvind Johnsen at the Meteorologist Institute told Aftenposten.no.
Snow fell in several places across the country overnight, especially in the northern part of Oppland County and in Hedmark County. Fokstua in northern Oppland had the most, with 14 centimeters (5.5 inches) of snow overnight.
The good news is that 'winter' won't last long. It should melt in the course of the day and summery weather should return to the Trøndelag region in the middle of Norway, and then to southern Norway, after a few days.
"Next week we can expect comfortable summer temperatures between 20-25C (68-77F) across much of southern Norway," Johnsen said, but warned those in the north of the country that they need to remain patient.
"A cool weather pattern has dominated our three northernmost counties lately and this will continue through next week. This means a good deal of rain and temperatures between 6-12C (43-53F)," Johnsen said.
Snow falling in central Sweden
The Local, 14 June 2007
It might be only one week to Midsummer, but nobody seems to have told mother nature. Snow has returned to parts of central Sweden, with five centimetres falling in some places.
The snowfall came in the mountainous Härjedalen area of northern Dalarna. A meteorologist from weather service SMHI told Svenska Dagbladet that snow was unusual at this time of year, usually falling roughly once every ten years.
The snow follows weeks of warm summer weather, but a low pressure area caused a turn in conditions. Temperatures are expected to rise again tomorrow, reaching 15 to 18 degrees, SMHI predicts.