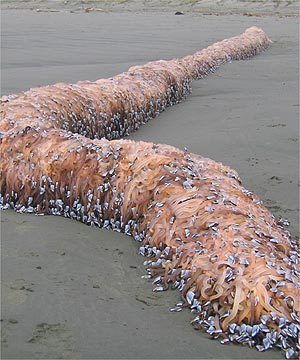 ©KAY BLUNDELL/Dominion Post
Waikanae's 14-metre tentacle-covered mass has fascinated beachgoers north of Wellington this week.
Nightmarish sea monster or natural wonder?
A 14-metre, tentacle-covered mass has horrified and fascinated Waikanae beachgoers this week.
However, Conservation Department community relations programme manager Stacy Moore said it was actually a lot of goose barnacles (Lepas anatifera), each about 30 centimetres long with a shell attached to each long pinkish tube. They were stuck to a piece of wood or rope.
Goose barnacles were carried on driftwood, rope or the bottom of ships. Timber cast ashore was often completely covered with the barnacles.
The barnacles prompted one of Britain's strangest ancient animal beliefs. The heart- shaped shell was believed to resemble the head of the barnacle goose, Branta leucopsis.
Because the geese rarely nested in Britain, no one saw the eggs or nests, prompting the belief that the geese grew up on the planks of ships and emerged clothed in feathers and flew away.
Ms Moore expected the mass on Waikanae Beach to remain just north of the Waimea Stream mouth till a storm surge swept it back out to sea.