Many British motorists are lost when it comes to understanding common road signs, a survey suggests.
Some 67% of the 2,500 people polled did not recognise "no through road" signs, and one-third could not identify the sign for "no motor vehicles".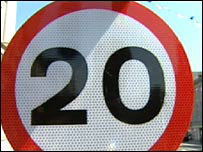 ©BBC
There was no indication that this sign posed a problem
Fewer than 33% knew what a "no cycling" sign looked like and one-third were confused by height restriction signs.
Carmaker Vauxhall's poll found support for new signs showing "cash machine nearby" and "urban foxes crossing".
'Wild goose chases'
The next most popular new signs motorists wanted to see were ones warning drivers to be more environmentally friendly by switching off their engines - for instance, outside schools while waiting to collect children.
Other popular suggestions were:
# Wifi hotspot;
# Healthy eating zone - indicating places where healthy food is on offer;
# Drive-through approaching;
# Up-to-date children-crossing signs - with the boy wearing a hoodie;
# Beware of skateboarders.
Simon Ewart, of Vauxhall, said: "UK motorists love to drive, but our research shows that there is a need to contemporise the road landscape to mirror the needs of modern motorists.
"We are all more aware of green issues, so a simple reminder to turn the engine off when waiting has to be a good thing.
"We've all been on wild goose chases looking for cash machines. A new road sign could save endless hours searching the streets."