A recent survey found that seven out of 10 U.S. adults take their laundry to a dry cleaner -- and it sometimes happens that things get lost.
But in Washington, D.C., an unsatisfied customer has turned a dispute with his cleaner into a huge legal battle, asking a court to award him millions of dollars over a pair of pants.
Roy Pearson, a D.C.-area judge, is the plaintiff in the case. Pearson said it all began two years ago when he took the pants from a pinstripe suit to a dry cleaner for alterations. He claims the cleaner lost the pants, then tried to pass off other gray slacks as his.
Christopher Manning, the lawyer for the couple that owns the business, said the gray pants were the ones the customer brought in.
"He did not drop off any pants that had red or blue or any other pinstripes," Manning said.
Jin and Soo Chung own the cleaning business. They are Korean immigrants who came to the U.S. in 1992.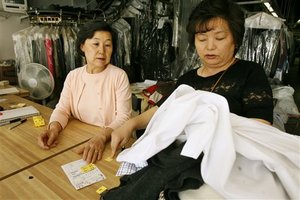 ©AP Photo/Jacquelyn Martin
Ki Chung, left, takes a dry cleaning order from Hyun Soo Lee inside of the Chung's dry cleaning business, Custom Cleaners, in Washington
"We can't sleep properly. We cannot eat properly. We can't function properly, because this is always on our mind," Jin Chung said through an interpreter.
The couple eventually offered to pay $12,000 to settle the dispute, but Pearson is hoping to sue the pants off the cleaners -- asking for $67 million in damages.
He claims the Chungs committed fraud when they put up signs that said "satisfaction guaranteed" and "same day service."
Pearson is suing under a consumer protection law that allows fines for each day of what he claims are multiple violations, which is how he gets to $67 million. He is also asking for $15,000 to lease a car so he can get to a different dry cleaner.
Victor Schwartz, an advocate for changing the legal system, said consumer laws are open to abuse.
"They were designed to protect consumers against real fraud, misstatements that could hurt somebody, not for a small business that says, 'satisfaction guaranteed.'"
The Chungs' lawyer said he has never seen anything like this lawsuit.
"They came here. They started a cleaners and a mere 10 years later, they found that dream has become a nightmare at the hands of Roy Pearson," Manning said.
The case goes to trial next month, with the Chungs hoping they don't get taken to the cleaners.