WAYCROSS, Ga. - Dozens of residents evacuated their homes for several hours early Wednesday after a wildfire jumped a road and spread toward two small communities.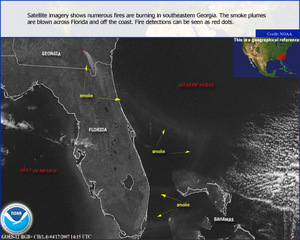 ©NOAA
Smoke from the Georgia fire can be seen by satellite as it travels out over the Atlantic and is blown back toward Florida.
"It looked like it was snowing with all the ash falling. You could feel the heat," said Darryl Cribbs, 44, who packed up his family in Braganza after sheriff's deputies came to their door around 1 a.m. "They said as soon as we left they were going to bring in tanker trucks and try to save the house."
The wildfire spread rapidly Tuesday night and early Wednesday near the private, nonprofit Okefenokee Swamp Park, fueled by dense and dry trees and brush.
Ware County schools reopened after being closed six days.
About 70 homes were evacuated as a precaution early Wednesday when the fire crossed Ga. 177, a short road that ends in the swamp, and threatened the small communities of Astoria and Braganza about three miles south of Waycross.
Residents were allowed to return home a few hours later.
Firefighters worked Wednesday to widen fire breaks plowed by bulldozers along the northern edge of the swamp in hopes of protecting nearby homes and keeping the fire from reaching U.S. 1, the major highway connecting Waycross and Jacksonville, Fla. One stretch of U.S. 1 was briefly closed early Wednesday.
Officials say the blaze had been 50 percent contained by fire breaks plowed along its perimeter.
Firefighters cautioned that the blaze still threatened to spread into residential areas near the swamp as flames were fanned by southwesterly wind gusting to 15 mph. Stronger wind was forecast for Thursday and Friday.
"They're not out of the woods yet," said Eric Mosley, a spokesman for the Georgia Forestry Commission.
Over the past nine days, wildfires have burned about 67 square miles of forest parched by drought in southeast Georgia and destroyed 18 homes.
More than 1,000 Ware County residents have been forced to evacuate, and 5,000 others have been urged to leave because of health risks associated with the smoke.
Waycross, a city of about 15,300 resident three miles to the north, was not in immediate danger, though thick smoke blanketed the city, fire officials said. However, smoke remained thick near the swamp about seven miles away.
The fire started April 16 when a downed power line ignited tinder-dry trees in Ware County.