The hottest day in Rome so far this year brought relief for one and entertainment for many on Sunday as a woman took a skinny-dip in the Trevi fountain.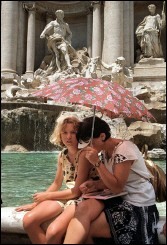 ©n/a
Identified only as Roberta, the Milanese woman, aged about 40, delighted hundreds of onlookers with her "Dolce Vita" caper as the temperature hit 27 degrees Celsius (80 Fahrenheit), the ANSA news agency reported.
Police, after allowing her to strip, splash about and then sunbathe on the edge of the famous fountain for a few minutes, invited her to collect her clothes from the water and leave.
She complied, dripping and smiling to the applause of the crowd.
A police spokesman commented dryly that "water belongs to everyone,"
but Roberta faces a stiff fine for "obscene behaviour in public."