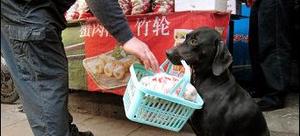 ©AP Photo/ Eugene Hoshiko
A dog helps his owner carry a grocery basket Thursday Feb. 12, 2007, in Shanghai, China.
WASHINGTON - Pet food contaminated with an industrial chemical may have sickened or killed 39,000 cats and dogs nationwide, based on an extrapolation from data released Monday by one of the nation's largest chains of veterinary hospitals.
Banfield, The Pet Hospital, said an analysis of its database, compiled from records collected by its more than 615 veterinary hospitals, suggests that three out of every 10,000 cats and dogs that ate the pet food contaminated with melamine developed kidney failure. There are an estimated 60 million dogs and 70 million cats in the United States, according to the American Veterinary Medical Association.
The hospital chain saw 1 million dogs and cats during the three months when the more than 100 brands of now-recalled contaminated pet food were sold. It saw 284 extra cases of kidney failure among cats during that period, or a roughly 30 percent increase, when compared with background rates.
"It has meaning, when you see a peak like that. We see so many pets here, and it coincided with the recall period," said veterinarian Hugh Lewis, who oversees the mining of Banfield's database to do clinical studies. The chain continues to share its data with the Food and Drug Administration.
FDA officials previously have said the database compiled by the huge veterinary practice would probably provide the most authoritative picture of the harm done by the tainted cat and dog food.
From its findings, Banfield officials calculated an incidence rate of .03 percent for pets, although there was no discernible uptick among dogs. That suggests the contamination was overwhelming toxic to cats, Lewis said. That is in line with what other experts have said previously.
At least six pet food companies have recalled products made with imported Chinese wheat gluten tainted with the chemical. The recall involved about 1 percent of the overall U.S. pet food supply.
Measuring the tainted food's impact on animal health has proved an elusive goal. Previous estimates have ranged from the FDA's admittedly low tally of roughly 16 confirmed deaths to the more than 3,000 unconfirmed cases logged by one Web site.
"On a percentage basis it's not breathtaking, but unfortunately it's a number that, if it was your pet that was affected, it's too high," veterinarian Nancy Zimmerman, Banfield's senior medical adviser, said of the newly estimated incidence rate.
In another estimate Monday, the founder of a veterinary group said 5,000 to 10,000 pets may have fallen ill from eating the contaminated food, and 1,000 to 2,000 may have died.
The estimate was based on a Veterinary Information Network survey of 1,400 veterinarians among its 30,000 members. About one-third reported at least one case, said Paul Pion, the Network's founder. He cautioned that a final, definitive tally isn't possible, and that even his estimate could be halved _ or doubled.
"Nobody is ever going to know the truth," Pion said. "It's always going to be a guess."
Also Monday, the Web site petconnection.com said it had received reports of 3,598 pet deaths, split almost evenly between dogs and cats. The site cautioned that the numbers were unconfirmed.
Banfield's veterinarians treat an estimated 6 percent of the nation's cats and dogs. After the first recall was announced, the chain beefed up its software to allow those veterinarians to plug in extra epidemiological information to help track cases, Zimmerman said.
The new template allowed vets to log what a sick pet had eaten, any symptoms its owner may have noticed, the results of a physical examination, any urine and blood test results and other observations.
Lewis said there is no reason to believe the company's findings _ including an apparently heightened vulnerability of kittens to the contaminant _ wouldn't hold for other veterinary practices as well.
In outbreaks of foodborne disease in humans, the FDA leans on its sister agency, the Centers for Disease Control and Prevention, to help track and confirm cases. During the ongoing pet food scare, FDA officials have repeatedly reminded the nation that there is no CDC for dogs and cats.
A spokesman for the American Veterinary Medical Association said the lack of hard numbers has worried pet owners eager to understand the extent of the problem. He suggested the recall could spur the creation of an animal counterpart to the CDC.
"This might be something that would push this in the future," AVMA spokesman Michael San Filippo said.
Another large veterinary chain, Los Angeles-based VCA Antech Inc., has not tallied reports from its nearly 400 VCA animal hospitals around the country, a spokesman said.