UPDATE:
Quake upgraded to 8.0

HONIARA, Solomon Islands - A powerful magnitude-7.6 earthquake struck off the Solomon Islands on Monday, sending a tsunami wave crashing into the country's west coast and prompting region-wide disaster warnings, officials said.
Sgt. Godfrey Abiah said police in the capital, Honiara, reported a wave several yards high had crashed ashore in the western town of Gizo shortly before communication lines with the region were cut.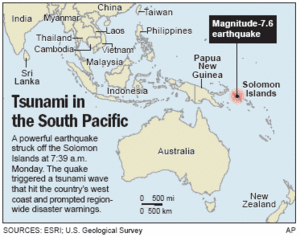 ©AP
Julian McLeod of the Solomon Islands National Disaster Management Office said there were unconfirmed reports that two villages in the country's far west were flooded.
"Two villages were reported to have been completely inundated," McLeod told Australian Broadcasting Corp. radio. "We have received reports of four people missing."
Later Monday, Japan's NHK television said that at least three people were reported to have died in the Solomons after the earthquake.
The U.S. Geological Survey said the earthquake struck at 7:39 a.m. about 6 miles beneath the sea floor, 217 miles northwest of Honiara.
The Hawaii-based Pacific Tsunami Warning Center issued a warning for the Solomon Islands and neighboring Papua New Guinea. It ordered a lower-level "tsunami watch" for other places, including most South Pacific countries. The center said Hawaii's status could be elevated to warning or watch.
A tsunami was also possible at Willis Island and Cooktown in far northeastern Australia, the Australian Bureau of Meteorology's National Meteorological and Oceanographic Centre said.
Abiah said police in Gizo had been warning residents to move to higher ground away from the coast when the tsunami hit. Communications were lost soon afterward.
In its report, NHK quoted a local official, who, speaking by telephone in Gizo, said the quake caused tidal waves and many houses were destroyed on the coast of Gizo. Three people were found dead in different locations there, he said.
"We have lost radio contact with the two police stations down there and we're not getting any clear picture from down there," he told The Associated Press by telephone.
A spokesman for Prime Minister Manasseh Sogavare, Deli Oso, said the quake was felt in Honiara but there were no reports of any damage.
Whole villages 'wiped out'
AFP
- Several villages in the Solomon Islands were completely destroyed by a tsunami in the west of the South Pacific nation on Monday, the chairman of the National Disaster Council said.
"Some villages are completely wiped out," Fred Fakari told journalists in the capital Honiara.
South Pacific quake and tsunami kills 12
By Walter Nalangu, Reuters
HONIARA - At least 12 people were killed and many more missing after a powerful earthquake and tsunami struck the tiny Solomon Islands, sweeping away entire villages and triggering a Pacific-wide tsunami alert.
The shallow quake, with a magnitude of at least 8.0, leveled buildings and damaged a hospital on Gizo island northwest of the Solomons capital, Honiara, while
a tsunami sucked homes into the sea
as thousands of panicked residents fled for higher ground.
At least seven people died in Gizo, many trapped in their homes when waves swept through the town. Other bodies could be seen but not reached because of big waves, the government said in a statement.
"The wave was up to 10-metres (32 feet) high in some villages," Solomon Islands' chief government spokesman Alfred Maesulia told Reuters. "Some villages have been entirely washed away."
The quake struck 350 km (220 miles) north-west of Honiara during the morning (2040 GMT on Sunday) and sparked a tsunami alert around the Pacific.
Beaches along Australia's east coast were shut and ferry services halted in Sydney Harbor amid fears of a repeat of the 2004 Indian Ocean tsunami disaster.
The alert was lifted about nine hours later, with damage confined to the immediate area around the quake.
Solomons Prime Minister Manasseh Sogavare said the disaster could have been worse if it had happened only a few hours earlier, in darkness, when more people would have been asleep.
"We are lucky that it happened during the daytime, that
the people observed the sea receded
as a sign that something was not right," Sogavare told CNN television.
Witnesses described the arriving wave, which Australia's government said also hit the western Papua New Guinea island of Bougainville, as an "extreme tide".

"EVERYTHING DOUSED"
"The water just came up about probably about 4 to 5 meters (13 to 16 feet) above sea level and kind of just went up into the communities and doused everything," Danny Kennedy, a dive shop owner and provincial politician on Gizo, told Reuters.
Jackson Kiloe, the Premier of Choiseul, said huge rolling waves were crashing ashore, prompting evacuations.
"The huge wave rolls are stronger than floods," he said.
Solomons' disaster management authorities said communications problems were preventing an assessment of damage on Simbo island where residents reported waves hitting houses 200 meters (200 yards) inland.
Geological agencies, including those in Australia and Japan, put the magnitude of the quake at 8.1 while the U.S. Geological Survey's (USGS) revised its earlier estimate to 8.0.
The initial tremor was followed around seven minutes later by a second one, centered further west, of magnitude 6.7, USGS said.
Gary Gibson, who chairs the International Seismological Center executive committee, said the quake was the biggest to hit the Solomons since 1900.
"An earthquake of this size would involve a rupture of more than 10,000 square kilometers of fault area ... about 100 kilometers by 100 kilometers," he said.
But he said the quake was much smaller than the 1,300 km long rupture in December 2004 off Indonesia's Sumatra island.
The Solomon Islands lies on the so-called Pacific "Ring of Fire" where volcanic activity and earthquakes are fairly common.
The islands are popular with international travelers for scuba diving. Most homes in the mountainous islands are constructed of timber and bamboo, with villagers relying on fishing and logging for employment.