HONOLULU - Dorie-Ann Kahale and her five daughters moved from a homeless shelter to a mansion Thursday, courtesy of a Japanese real estate mogul who is handing over eight of his multimillion-dollar homes to low-income Native Hawaiian families.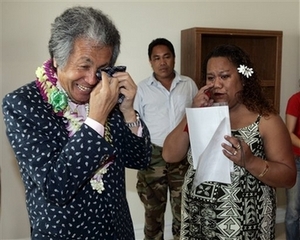 ©AP
Japanese billionaire Genshiro Kawamoto, left, and Dorie-Ann Kahale, both cry after Kawamoto handed over the keys.
Tears spilled down Kahale's cheeks as she accepted from Genshiro Kawamoto the key to a white, columned house with a circular driveway, a stone staircase and a deep porcelain bathtub. Her family will live there rent-free, but must pay utility bills.
"What we need to do is appreciate," Kahale said. "As fast as we got it, it could disappear."
Kawamoto, whose own eyes started welling up as Kahale cried, handed over two other homes Thursday to homeless or low-income families.
Kawamoto, one of Japan's richest men, said he plans to open eight of his 22 Kahala homes to needy Hawaiian families. They will be able to stay in the homes for up to 10 years, he said.
Native Hawaiians are disproportionately represented among the state's homeless and working poor.
Giving away mansions shows more dedication to helping Hawaii's homeless than just handing out wads of cash, he said. Asked whether he was concerned about losing money on the effort, he laughed and said: "This is pocket money for me."
Kahale's new house is worth nearly $5 million, an average price for the mansion-like dwellings on Kahala Avenue. It is one of the more modest homes in the neighborhood, many of which feature ornate iron gates, meandering driveways and sculptured gardens.
Kahale became homeless two years ago when her landlord raised her rent from $800 to $1,200, putting the apartment beyond reach of her salary as customer service representative for Pacific LightNet, a telecommunications company. She first stayed with family, then moved to a shelter in September.