BANGKOK, Thailand - Thai veterinarians announced Thursday that an artificially inseminated elephant has given birth to a bouncing baby boy - a first in Asia that could be a crucial step in conserving the endangered species.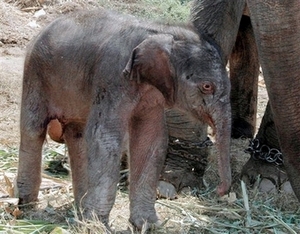 ©AP
A one-day-old baby elephant stands next to its mother at the Thai Elephant Conservation Center in Lampang province, northern Thailand
The baby Asian elephant was born late Wednesday at the Elephant Hospital at the Thai Elephant Conservation Centre in the northern Thai town of Lampang, said Sitthidej Mahasawangkul, head of the hospital. The 220-pound male calf was healthy and could walk immediately, he said.
The mother was also doing well, Sitthidej said.
"This is the first time that artificial insemination is successfully carried out in Thailand and in Asia," he said. "We hope that this will help increase the elephant population in Thailand which have been declining for the past several decades."
An Asian elephant impregnated through a similar method by German veterinarians gave birth in
Israel in December to what was the 11th Asian elephant to be born using this method, according to Israeli news reports at the time.
Asian elephants are an endangered species, with only between 34,000 to 54,000 believed to be alive in the wild, according to scientists.
Sittidej has said that Thai veterinarians were attempting to develop a technique that would enable them to artificially inseminate elephants using frozen sperm which lasts for 20 years. That would give them greater flexibility in their efforts to increase the population of Asian elephants, he said.
But Sittidej's work has come under fire from some Thai conservationists who say artificial insemination is invasive and unnecessary.
They contend that Thailand has plenty of male elephants to ensure a healthy population and that efforts would be better directed toward protecting their dwindling habitat in the country and elsewhere in Asia.
"If we could take good care of the elephants, they can reproduce naturally," said Soraida Salwala, founder of Friends of the Asian Elephant which also runs an elephant hospital in Lampang. "It seems what they are doing here is trying to introduce themselves to the public and saying come on and buy our products."