A cloak worn by Sir Alec Guinness in Star Wars, which went missing for 30 years, has been sold for £54,000 ($104, 254) at an auction of cinema and TV outfits.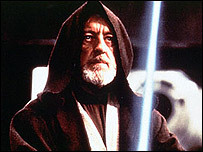 ©LFilms
Estimates suggested the plain, brown robe, seen on the sci-fi film's Obi-Wan Kenobi character, would reach £40,000.
Tom Baker's Doctor Who costume - comprising a burgundy coat, brown tweed trousers and striped scarf - fetched £24,600, 12 times the anticipated sum.
And Batman and Robin costumes worn in Only Fools and Horses reached £10,200.
While Sir Alec's cloak was missing, it was loaned to other films - including The Mummy in 1999 - and was even hired out as fancy dress.
The Doctor Who outfit previously worn by Tom Baker
The Time Lord's famous striped scarf was included in the lot
Its heritage was only realised during a stock-check two years ago, and since then it has formed part of a film memorabilia exhibition in London.
Sir Sean Connery's dinner jacket from the James Bond movie Thunderball was sold for £30,900.
And a Navy battle dress jacket worn by Roger Moore in The Spy Who Loved Me went under the hammer for £10,880.
Also among the 350 lots being sold by London-based costume maker Angels were a full outfit of William Wallace, associated with Mel Gibson in the film Braveheart.
It reached £23,200, while a metal knight's helmet worn by Terry Jones in Monty Python and the Holy Grail came with a price tag of £11,100.
Angels said it was trying to clear space in its warehouse, which currently holds more than 1.5 million costumes, as well as lowering its insurance costs.
Bonhams auction house transformed its saleroom into a celebrity's dressing room to give prospective buyers the chance to try on their favourite costumes.
Other highlights from the collection were Madonna's dresses from Evita, plus costumes from the Indiana Jones films, the Harry Potter series and Titanic.