The computer world was thrilled and amazed this week when Bill Gates finally unveiled the long-awaited 'Cardigan 2007'. It was the Microsoft C.O.O.'s first new knitwear in over eight years and is being heralded as the most advanced cardigan the softwear giant has ever developed.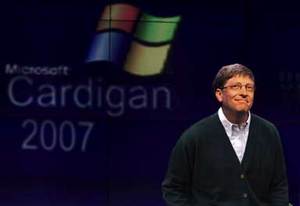 ©Red
A new era in smart-casual
'Today is a big day. This cardigan marks a new era in smart-casual for us', Gates told the enthralled delegates. 'The double pockets can hold more parallel Biro's than previous cardigans, and the combination of a zip and buttons makes this the most secure cardy I have ever worn. The sleeves can be pushed up in warmer weather and further security add-ons such as leather elbow patches can be purchased separately.'
Cardigan 2007 is predicted to have 100m wearers worldwide within the next twelve months, but there are some concerns that the skinny slightly geek-like fit will not be suitable for every body shape. Gates has pledged to continue to support the open-neck-ironed-shirt-no-tie look for another five years but his company is pushing hard to get everyone into cardigans as soon as possible. However Microsoft may soon find their share of the market under challenge. Rumours from Apple suggest that Steve Jobs is now planning to bring forward the launch of his much anticipated 'Polo-neck Pro'.