An 80-year-old Chinese man has washed his hair for the first time in 26 years.
Shampoo had little effect on Luo Shiyuan's matted 6ft long hair and 5ft beard so the whole family pitched in with washing powder, reports Chongqing Morning Papers.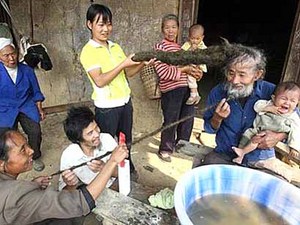 ©Ananova
In all, it took 12 people - including his son, daughter-in-law, grandchildren and neighbours - five hours and three family bags of washing powder.
When his hair was finally clean, locals in the remote mountain village of Red Flag, near Chongqing city, said they would try to get his name in the record books.