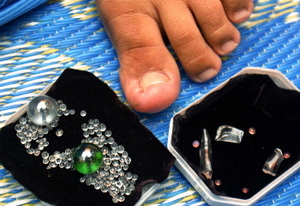 ©Nashairi Mohd Nawi.
The stones (at left) produced by Siti's toe.
The 23-year-old girl from Alor Gajah had become an overnight sensation when TV3 aired the bizarre story of crystal-like stones popping out from beneath her toe nail.
Her rubber-tapper mother Kamariah Komeng, 52, said Siti's toe nail would just open up to release a stone and closes on its own. Some people had offered to purchase the stones from Siti for research purposes.
A medical specialist has expressed interest in checking Siti's condition, describing that it was unusual.
"The stones looked like gems," said the doctor who is attached to the UKM Faculty of Medicine.