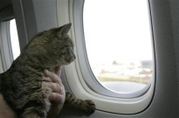 Paris - Emily the cat is heading home, in style. The wayward tabby from Wisconsin who disappeared two months ago and wound up traveling across the Atlantic to France boarded a Continental Airlines flight Thursday -— in business class.
Travel conditions leaving Europe promised to be a bit more comfortable for Emily, who arrived as a stowaway in a cargo container after straying from home in Appleton, Wisconsin.
"I don't think she'll drink champagne but I think she will be happy to rest," said Continental spokesman Philippe Fleury, at Charles de Gaulle airport to see Emily off. The airline offered to fly the cat home from Paris after her tale spread around the world and she cleared a one-month quarantine.
"This was such a marvelous story, that we wanted to add something to it," Fleury told AP Television News.
A full-fare ticket for Emily's seat would normally cost about $6,000 and the airline provided a company escort for the cat.
Emily vanished from her home in late September. She apparently wandered into a nearby paper company's distribution center and crawled into a container of paper bales.
The container went by truck to Chicago and by ship to Belgium before the cat was found Oct. 24 at Raflatac, a laminating company in Nancy, France. Emily, who turned 1 year old that very day, was thin and thirsty but still alive.
Workers at Raflatac used her tags to phone her veterinarian in Wisconsin, and the vet called her owners.
Emily faced one last packed day of travel before her homecoming. She was due to arrive in Newark, N.J., later Thursday, board a connecting flight to Chicago, and then be driven home to Wisconsin, Fleury said.
Emily's escort, Newark-based Continental employee George Chiladze, said he was thrilled to be taking Emily back across the Atlantic.
"I will make somebody really happy to deliver this poor traveler back home," he said.