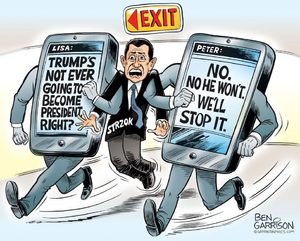 Strzok has left the building
What is truth anyway? The truth is the essence of something, its natural state, something as it really is. For me, it is really a quest for love, because to truly love something I must know it for what it really is. Perhaps we can sense in an unconscious way that there is a deeper truth to everything and everyone, and we are led to search for the truth about it, so that we can truly love it for what it really is.
- Joe Quinn
Recent Comments
God what a mess. How does the land recover ? ?
---
to answer your query, According to Article II, Section 2, Clause I of the Constitution, the President of the United States is "Commander in Chief...
---
Dear, the horrible truth of the matter is. that as long as he has the military on his side... he can carry on the fight. any leader, of any nation...
---
So how much say does POTUS have in actual military action?
---
Is the point of dropping a bomb every 12 minutes to keep the manufacturers in business? Could Trump actually control that if he wanted, could he...